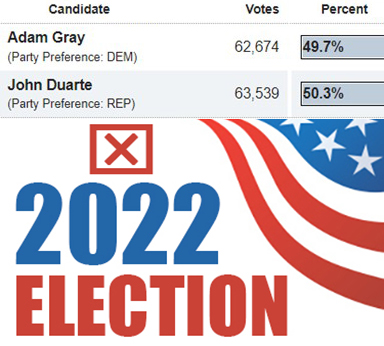 Almost 65,000 unprocessed ballots remain to be counted in the five counties affecting congressional district
Assembly District 27 race appears over with few ballots remaining to be counted in race
As of Friday night, Nov. 18, 2022, at 7:22 p.m. the unofficial election results on the California Secretary of State's website show Republican John Duarte is back in the lead over Democrat Adam Gray in the 13th Congressional District race by 865 votes, a reversal of 1,626 votes since our last report on Tuesday, Nov. 15 when Gray was ahead by 761 votes.
It is one of only four Close Contests from throughout the state listed on the website and the only congressional contest. It is also one of only three remaining undecided races for the U.S. House of Representatives in the nation, including the neighboring 22nd Congressional District where incumbent Republican David Valadao is leading Democrat challenger Rudy Salas by 4,547 votes and Alaska's one congressional district.
Valley farmer Duarte now has 63,539 votes or 50.3% to local Assemblyman Gray's 62,674 votes or 49.7% of the vote. While Gray is ahead by 4,111 votes in the portions of the district in his home county of Merced, as well as Stanislaus and San Joaquin counties, Duarte leads by 4,976 votes in Madera and Fresno counties. The difference in votes in the latter two counties is greater than in the other three.
According to the CA SOS website, the results are from the "496 of 496 precincts in the district partiallyreporting…since vote-by-mail, provisional, and other ballots will continue to be processed and counted after Election Night."
The Unprocessed Ballot Report on that website shows the results are based on 64,752 ballots remaining to be counted in the five counties. The amount of those ballots within the 13th Congressional District is unknown. Thus, the lead could switch back to Gray. (Please see details, below)
Assembly Race Appears Over
In the race for the 27th Assembly District it appears Esmeralda Soria has defeated Mark Pazin as she now leads him by 2,050 votes. She now has 44,784 votes or 51.2% to his 42,734 votes or 48.8% of the vote. There are only 4,113 unprocessed votes remaining in Merced, Madera and Fresno counties and they may not all be from within the district. Even if they are, the former Merced County Sheriff would have to win almost 75% of them to overcome the Fresno councilwoman's lead.
Secretary of State's Website Messages
The CA SOS website reads, "Election results will change throughout the canvass period as vote-by-mail ballots, provisional ballots (including conditional voter registration provisional ballots), and other ballots are tallied" and "the Results will be certified by December 16, 2022". So, the counting will continue.
———————-
Results by and Unprocessed Ballots Remaining in Each County:
Merced County as of Nov. 14 at 6:11 pm
Gray 28,042 or 52.2%
Duarte 25,681 or 47.8%
Difference + 2,361 for Gray
Unprocessed Ballots: 1,313
Stanislaus County as of Nov. 17 at 5:43 pm
Gray 16,158 or 52%
Duarte 14,891 or 48%
Difference +1,267 for Gray
+3,628 cumulative for Gray
Unprocessed Ballots: 31,809
San Joaquin County as of Nov. 15 at 6:33 pm
Gray 3,590 or 53.6%
Duarte 3,107 or 46.4%
Difference: +483 for Gray
+4,111 cumulative for Gray
Unprocessed Ballots: 28,830
Madera County as of Nov. 18 at 2:06 pm
Gray 8,991 or 41.6%
Duarte 12,621 or 58.4%
Difference: +3,630 for Duarte
+481 cumulative for Gray
Unprocessed Ballots: 200
Fresno County as of Nov. 18 at 3:58 pm
Gray 5,893 or 44.9%
Duarte 7,239 or 55.1%
Difference +1,346 for Duarte
+865 cumulative for Duarte
Unprocessed Ballots: 2,600
Please check this website later for the latest updates in these races.