"I am absolutely appalled and embarrassed of what transpired… The vote to terminate Josh Pinheiro was unfair and without cause." – Kenneth Lambert
Special council meeting to hire interim city manager set for Wednesday night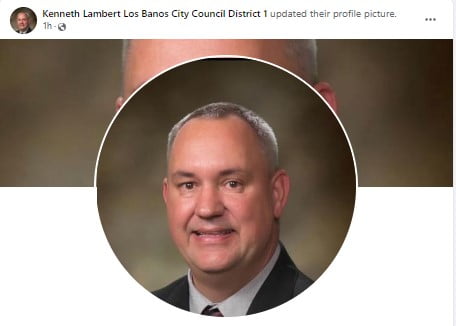 Following the firing of Los Banos city manager Josh Pinheiro, last Wednesday night and the issuance of a statement on Saturday by District 3 Councilmember Brett Jones of the mayor and two council members who voted in favor, District 1 Councilmember Kenneth Lambert issued the following statement on his official Facebook page, today Tuesday, June 21. It, too is critical of the three who voted to fire Pinheiro. (See related articles here and here)
Lambert wrote:
"To the Residents of Los Banos,
I am absolutely appalled and embarrassed of what transpired this past "Closed Session" Council Meeting. I do NOT agree with this decision.
Our direction for hiring Josh Pinheiro was that we wanted a seasoned leader without all the excuses that government employees are quick to give for things not getting done. We needed someone who was strictly about the well-being of Los Banos; someone that had a vison for our City's economic outlook and the mindset on how to get us there.
For once we had a City Manager that got out from behind his desk to see the issues first hand. The City Manager was excelling at doing the job we desperately needed. At our June 15th Council Meeting, we passed the City's budget by unanimous vote with the biggest City improvement plan that this City has ever seen. This was all lead by the City Manager with the help of the department heads, finally working together for a common goal.
The vote to terminate the City Manager last week came from Council Members Refugio Llamas, Deborah Lewis and Mayor Tom Faria. Their vote was purely out of emotion with no justified reason, no thought or logic given to the repercussions this would have on our City and Residents moving forward.
For once in this City, our Residents were seeing a positive change for our community and Council Members Refugio Llamas, Deborah Lewis and Mayor Tom Faria RIPPED THAT AWAY FROM YOU, THE TAX PAYER, without any concern for the outlook and well-being of Los Banos. The vote to terminate Josh Pinheiro was unfair and without cause.
We need our Residents to come forward at our next in-person Council meeting on July 6th at 6:00 PM to voice their frustrations and demand an explanation from Council. City Hall is located at 520 J Street in Los Banos."
Special Council Meeting Wednesday Night
A special meeting of the city council has been scheduled for Wednesday, June 22 at 7:00 p.m. It will begin with public comments before the mayor and council members enter closed session for discussion of the matter. If a decision is reached, they will report out following the meeting.
The meeting will be held in the City Hall Council Chambers at 520 J Street. Members of the public may address the City Council Members on any item of public interest that is within the jurisdiction of the City Council; includes agenda and non-agenda items. No action will be taken on non-agenda items. Speakers may submit their comments by submitting a written statement, limited to 250 words or less, by dropping it off in the Utility Payment Box at City Hall, 520 J Street, by mail or emailing [email protected]. Comments received will be read into the record during the City Council Meeting.
See council meeting agenda, here.