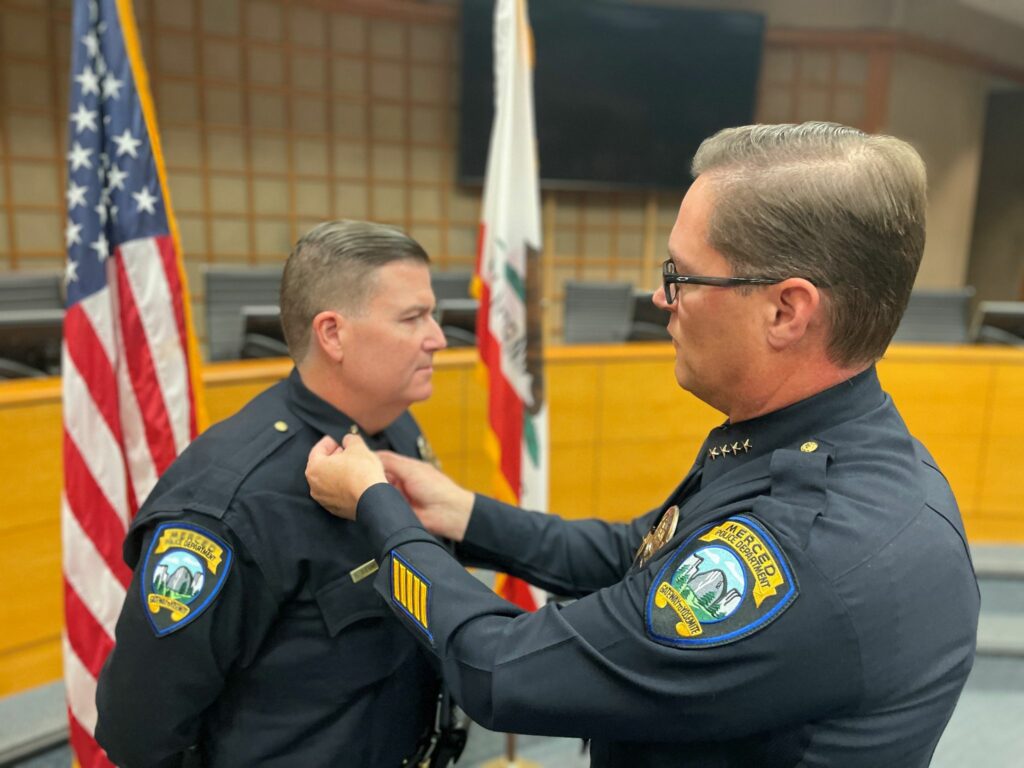 By VICTOR A. PATTON
[email protected]
A veteran of Valley law enforcement has officially taken the reins of the Merced Police Department following an extensive search to find the city's top cop.
Steven Stanfield was sworn-in as Merced's new police chief during a brief city hall ceremony on Monday.
During the ceremony, the former Modesto Police Department lieutenant pledged to listen to his employees and make sure they feel valued.
"I will ensure you have a voice in the direction of our department and will help move our agency forward. We are no longer going to spend time looking in the rearview mirror, but we are going to focus on our future," Stanfield said.
"Today marks a day of change for our agency and our city, a day where we will begin to write our future vision and shape our agency for years to come. I promise you that I will never forget that the most valuable asset in our agency is you, the staff who dedicate so much for this community."
Stanfield takes over the department from Interim Chief Craig Gundlach, a former captain with the Modesto Police Department who was appointed in February. The department's last permanent police chief, Thomas Cavallero, retired at the end of last year.
One of the biggest challenges Stanfield will face as chief will be recruitment and retention among ranks of the department, which has just under 100 officers to police a city of around 91,000, U.S. Census figures show.
Homelessness also remains a big quality-of-life issue for local residents. And violent crime remains a challenge. Merced County in 2022 ranked first among California's 58 counties for rates of homicides.
Merced Mayor Matthew Serratto told CVJC he believes the new chief is ready for the myriad challenges.
"Chief Stanfield comes with a great history, and we are really excited to have him," Serratto told CVJC. "The big thing (he brings) is stability that enables people to be elevated and enables the department to grow and put it in a good direction going forward."
According to his LinkedIn page, Stanfield worked for nearly 27 years at the Modesto Police Department, where he developed and managed special teams dedicated to addressing issues like homelessness and health.
He also oversaw the patrol schedule in Modesto, tracked use-of-force incidents and pursuits, and managed the department's real-time crime center.
Stanfield will earn an annual salary of $200,000, a figure the City Council voted to raise in August from $186,000, per a search firm's recommendation.
Victor A. Patton is interim editor-in-chief for the Central Valley Journalism Collaborative, a nonprofit newsroom based in Merced.