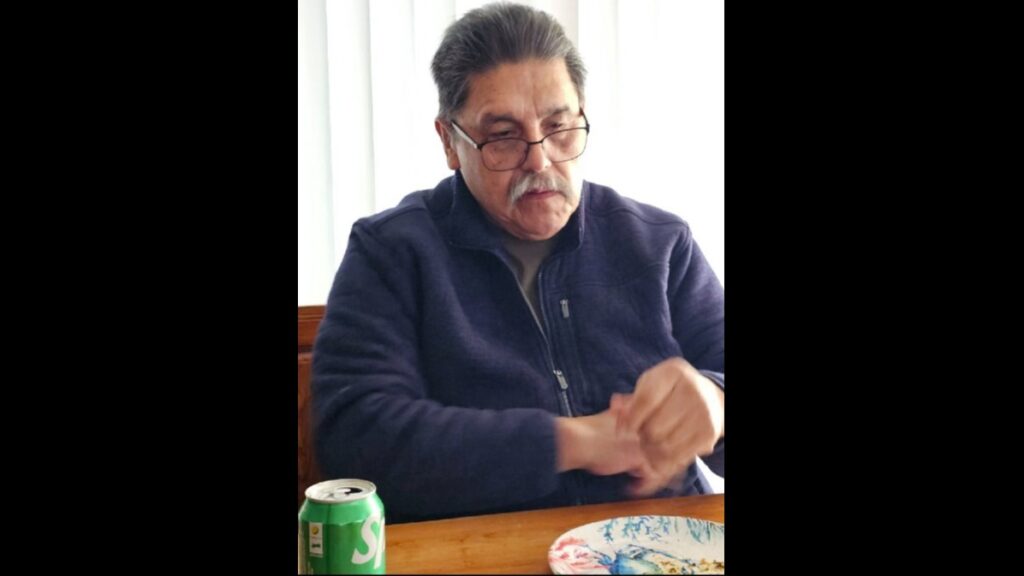 By BRIANNA VACCARI
Central Valley Journalism Collaborative
Nov. 3, 2023
MERCED, Calif. (CVJC) – Last week, Andrea Garibay woke up in the middle of the night to a text message alerting her that her father left the house to take a walk.
Gilbert Garibay, 73, liked to take walks, but not at 1 a.m. So Andrea sprung into action to go look for him. She knew her father likely would've walked down M Street.
Moments later, Andrea, a lifelong Mercedian, approached a crime scene on M Street and saw a man lying lifeless in the gutter. A police officer only confirmed to her that she need not continue the search for her dad, she said.
Andrea waited at the scene for hours, asking to see her father and asking officers what happened. It wasn't until 4 a.m. that she learned what occurred. A family friend called, relaying what he heard on the news: two Merced police officers shot and killed her father.
"It just doesn't make any sense," Andrea said in a telephone interview with CVJC. "They could've helped him. They could have done so many different things instead of just shooting my dad to death."
Merced Police Department officials said in a news release posted on social media that dispatchers received reports shortly before 1 a.m. on Oct. 26 that a man, identified by the coroner's office as Gilbert Garibay, was trying to jump in front of a moving vehicle on M Street.
Two officers found Gilbert, who police say then pulled out a knife and walked toward officers, ignoring their commands to drop the knife. The officers fired their service weapons and shot him. Officers attempted to give Gilbert medical aid, but he died at the scene.
Police officials have not yet publicly released the names of the two officers, who were placed on paid administrative leave, a standard practice. The Merced County District Attorney's Office is investigating the incident along with Merced Police Department detectives. Additionally, Merced police officials are conducting an internal review to ensure the officers followed the proper policies and procedures.
So far, Merced police investigators have not released any other information while they investigate. Lt. Joseph Perez said he anticipates the department will release video of the footage within 45 days of the incident, as required by state law.
A 'gentle soul' who had challenges
Andrea still has questions about what happened that night.
She wasn't surprised to hear her father, an avid fisherman, had a knife. Since she was a little girl, he always carried a small knife in his pocket. He used it as a tool.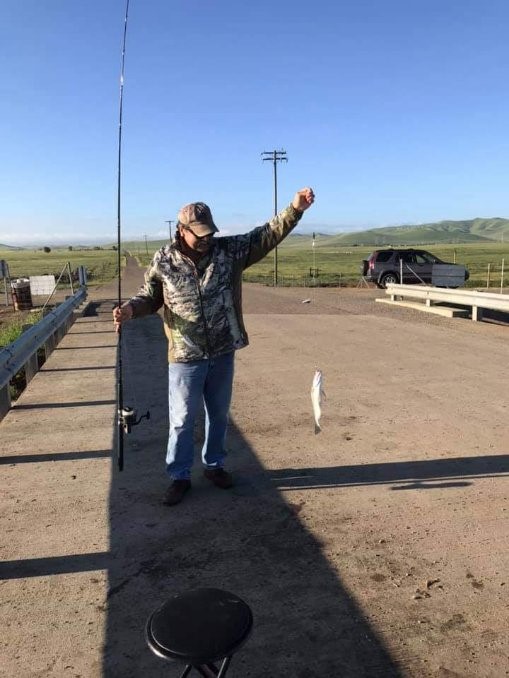 In hindsight, Andrea said she understands that a challenging heart condition, struggles with finances and moving from a longtime home, likely took a toll on her father emotionally. Since he was a private man, he never brought it up, but Andrea knew her father to be a worrier.
"I don't know what was going on in my dad's head that night. I don't know," she said.
She does know, however, that her father was "a gentle soul" and "a doer" who always helped hand out supplies at the food pantry or would help a stranger whose car broke down.
"I just wish that these cops that shot my dad the way they did, I wish they understood that he was just a normal person. He wasn't a monster, and maybe he was hurting inside, but he was just a normal, loving person," she said. "I'm sorry that they feared him, but, you know, I just wish he didn't go out like that."
Gilbert grew up in Winton and lived most of his life in the Merced area, aside from a five year stint in Arizona. He was the primary caregiver to his wife of 52 years, who needs a walker to get around. Besides fishing, Gilbert sailed in his free time and rode his bicycle long distances to places such as Hornitos, Fresno and Modesto. He was a handy man who welded as a hobby, creating elaborate sculptures out of metal pieces from shovels and horse shoes.
Timeline for release of information
Andrea hopes to get answers about what happened that night, but so far, she said, she's received very little information from police or the DA's Office. She would like to review the footage from the officers' body-worn cameras, but the police department has yet to release it.
"It's understandable, and it's not because we want to be secretive," Lt. Perez said. "There's certain things that we have to withhold a little bit while the initial stages of the investigation go. But we're very confident that, in the end, that critical incident video will come out so there's transparency and people will have a better understanding of what happened."
In recent years, the California Legislature enacted a number of new laws requiring law enforcement agencies to disclose information related to officer use of force, including footage from body-worn cameras.
State law requires law enforcement agencies to disclose certain information, such as a "critical incident video," within 45 days. Some information may remain confidential for longer if releasing it jeopardizes the integrity of the investigation.
Merced County District Attorney Nicole Silveira told CVJC she does not comment on the particulars of a case if the investigation is ongoing. It may take five months before any investigative findings are released.
Every case is different, and some take longer than others to investigate, Silveira said. Typically, the District Attorney's Office gives the agency involved 60 days for its investigation, and the district attorney's office takes an additional 60 days to investigate. After that, the district attorney's office takes another 30 days to make final findings in a use-of-force case, she said.
"As a department, we're working diligently to investigate from the outside and internally," Perez said. "We're going to be transparent on our end. That's what our wishes are and what the law requires."
City Councilmember heard gunshots
Merced City Councilmember Sarah Boyle, who represents District 5 where the shooting occurred, said the incident hit close to home – literally.
Boyle awoke to the sound of gunshots that night. The shooting happened about 800 feet from where she lives, she said.
The incident underscores the need for more mental health services at the state and federal level, she said.
"It's a nationwide issue," Boyle said. "The real pandemic that's happening is mental health, and it's something that should be addressed, not just by us locally, because the city doesn't offer those services, the county does. But the state should take more responsibility."
Merced City Councilmember Jesse Ornelas said he hopes the city and police department handle the case in a way that will foster a healthy relationship between police and the community.
"No one is saying they (the police officers) broke the law or should be fired or anything. They (the family) just have questions," Ornelas said. "We've been working hard as a city and council to repair the relationship between the community and law enforcement. We've made great strides."
If Merced's officers and dispatchers aren't trained in mental health emergency response, they should be, Ornelas said, because Merced residents face a range of mental health challenges.
Perez, the Merced police lieutenant, said officers receive some training in the police academy and through the department on how to deal with certain medical and mental health conditions.
"But we're not certified psychologists," he said.
Boyle is asking the community to stay informed and wait until more information is available before passing judgment. "We don't know the full story yet," Boyle said. "People jump to conclusions, and there can be hateful comments on social media. The family, they're going to see those comments that are insensitive.
Along with Andrea, who is an associate pastor at her church, Ornelas is asking community members to show some compassion, particularly while commenting on social media.
"He wasn't a criminal or drug addict. He didn't abuse alcohol. He had mental health issues and was in crisis," Ornelas said of Gilbert Garibay. "Community members in the city of Merced – the callousness shown for this man is embarrassing. Comments on social media are callous, saying, "that's what he gets" and "at least our officers went home safely."
"I'm asking for empathy from the community for someone suffering from mental illness," Ornelas said.
Perez said the incident is a tragedy for everyone involved – Garibay's family, the community and the officers.
"At the end of the day, the officers have to live with the fact that they took someone's life," Perez said. "It's hard on the family, it's hard on the officers and it's hard on the community."
Said Boyle: "For all of us as a community, be reflective of these situations so we can continue to heal with each other."
Brianna Vaccari is the government accountability/watchdog reporter for the Central Valley Journalism Collaborative, a nonprofit newsroom based in Merced. Sign up for CVJC's free Substack list here and follow CVJC on Facebook.