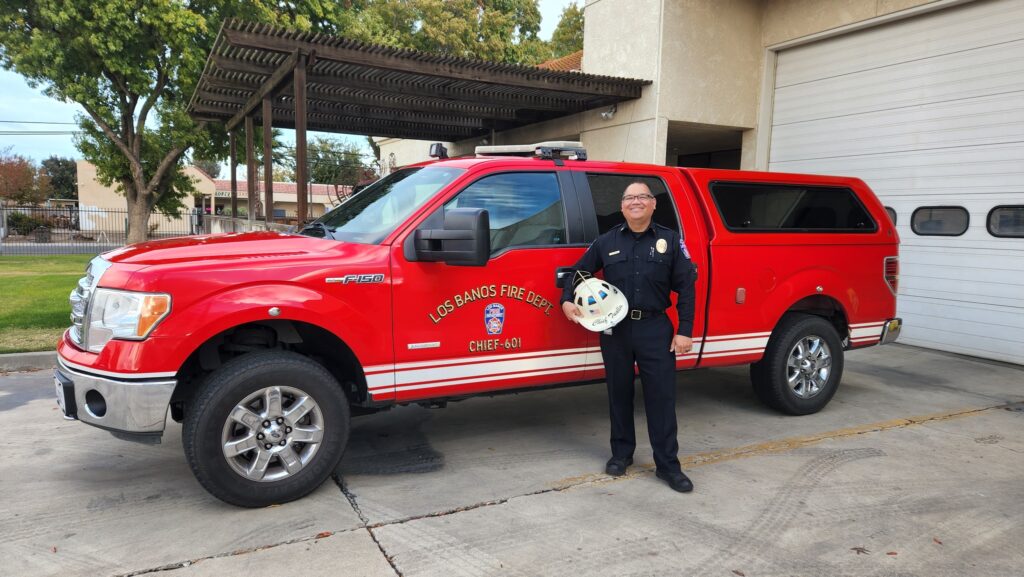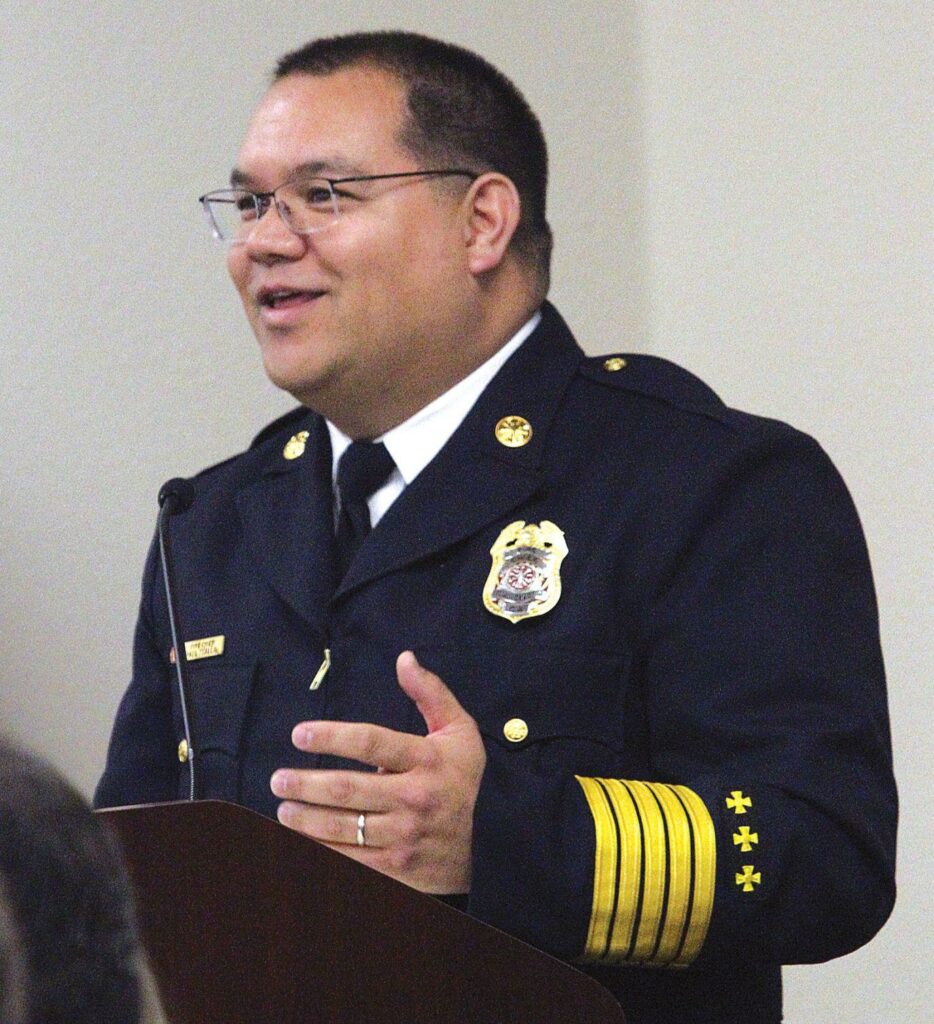 Los Banos has a new fire chief, as of Tuesday, Nov. 1, 2022, with the hiring of Paul Tualla by the city council on Oct. 5 to replace retired Chief Mason Hurley. Police Commander Ray Reyna served as Acting Fire Chief since May until Tualla came on board. He will be paid $172,584 annually or $14,382 per month to lead the Los Banos Fire Department, which is an All-Hazards Combination department that serves the public with both fire and Emergency Medical Services (EMS). The new chief has had an extensive career in public safety over the past 30 years including in fire department leadership and serving as a deputy sheriff and police detective for various departments in California.
New-Fire-Chief-Agrmt-LBCC-10.5.22

When speaking before the council during their Oct. 5 meeting Tualla briefly said, "I've met all of our nice folks over at the fire department, a good group of folks, here. Looking forward to working with them. Looking forward to working with you and the city, and the members of the public regards to our fire protection, here in the city, especially with it growing. I want to thank you for the opportunity. I also want to thank my wife. I look forward to working, here in the City of Los Banos."
"I know I have to hit the ground running," he also stated. "I also want to thank Commander Reyna for taking the helm."
While introducing the new chief Reyna said, "Paul…was born in Virginia and came to California in high school. So, I guess we can consider you a Californian."
"Paul was a police officer at one time, so that's probably one of the reasons why I really like him," the acting fire chief added to laughter from Tualla.
A post on the Los Banos Fire Department's Facebook page on Tuesday, Nov. 8 helped introduce the new chief: "Los Banos Fire Department would like to introduce our new Fire Chief. Chief Paul Tualla has 30 years of experience in the Public Safety Field, with experiences in Fire, EMS and Law Enforcement. Prior to working for the City of Los Banos, he was employed by Sacramento Metropolitan Fire District as a Peace Officer/Fire Investigator. He also worked as a part time Assistant Fire Chief for the Montezuma Fire District in Stockton, CA From 2009-2016, he was the Fire Chief for French Camp McKinley Fire District. Chief Tualla currently holds a master's degree in Business Administration, with a concentration in Public Administration. He has various Fire Service Certifications & CA Peace Officer certifications including a Paramedic License and a Certification as a Fire and Explosions Investigator."
Tualla's Career Details
According to his LinkedIn profile, Tualla's most recent job was Fire Investigator II and Sworn Peace Officer for the Sacramento Metropolitan Fire District since Sept. 2019. He also served as the part-time Assistant Fire Chief with the Montezuma Fire Protection District in Rio Vista since June 2018, where the majority of personnel are volunteers. He had previously worked for that same fire department as a Firefighter, Apparatus Operator and Administrative Captain from Aug. 1995 to March 2001 in the Stockton, California Area.
Tualla was also a part-time Background Investigator with TruView BSI, LLC in Arcadia since March 2019 where he conducted background investigations of Public Safety and Non-sworn personnel in accordance with P.O.S.T. and agency guidelines. From Oct. 2016 through Sep. 2019, he worked as a Police Sergeant with the Stockton Unified School District Police Department.
Tualla worked as a Primary Instructor – Fire Investigation with the California Fire & Rescue Training Authority including for the State Fire Marshall from March to Nov. 2016 in the Sacramento area.
He was the Fire Chief for the Mountain House Community Services District from Sep. 2015 through Nov. 2016 under contract with French Camp-McKinley Fire where he had previously served as Fire Chief and CEO from Feb. 2011 to Nov. 2016 and Assistant Fire Chief, Fire Inspector and EMS C.E. Coordinator from July 2009 until Feb. 2011. He started his public safety career there, working as a Reserve Firefighter and Apparatus Operator from Aug. 1992 to Dec. 1998.
Tualla also worked as a Level 1 Reserve Police Officer and Training Manager for the City of Escalon from Jan. 2012 – Nov. 2016
He was an Adjunct Instructor of Health Sciences at San Joaquin Delta College from Jan. 2012 to June 2013.
Tualla also served as a Tuolumne County Deputy Sheriff for eight years from 2000 to 2006 then from 2007 to 2009 where he worked in patrol and as an Administrative Deputy, Public Information Officer and Training Manager, and as a Police Detective for the City of Citrus Heights for one year from 2006-07 working as a Juvenile Detective for the Youth and Family Services Division.
Education
Tualla earned his bachelor's degree in Fire Science in 2011 from Columbia Southern University where he also earned his master's degree focused in MBA – Public Administration in 2013. In addition, he's earned a Delinquency Control Institute Certificate at U.S.C. and has a California EMS Paramedic's license that expires in August 2024. Finally, Tualla earned Basic, Intermediate, Advanced and Supervisor Certificates from the California Commission on Peace Officer Standards and Training (POST).