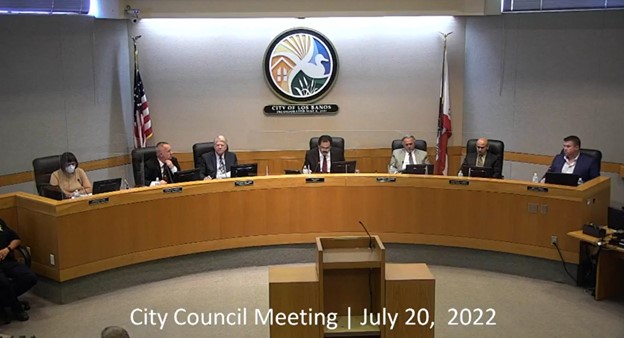 During their meeting on July 20, 2022, the Los Banos City Council voted to publicly interview three executive search firms to help find a permanent city manager to replace Josh Pinheiro who was terminated in June. District 4 Councilwoman Deborah Lewis dissented.
A Request for Proposal (RFP) was sent to eleven recruitment firms that specialize in public sector executive level recruitments. In response the City received three proposals from the following firms with their costs for the council to review:
According to the city staff report, the council could either direct staff to schedule interviews (either at an adjourned meeting, special meeting or the next regular meeting) with all of the three recruiting firms or in the alternative, the city council could select a preferred group of less than all three to be interviewed. Or the council could select one of the firms based upon the proposals received without conducting interviews and direct the interim city manager to enter into a professional services agreement with the selected firm.
"The only one that fit the criteria…would be the agency out of Berkeley," said Lewis. "They have given us a list of their successful recruitment. The others did not. I don't know interviewing all these three would serve any purpose."
The other four council members wanted a public interview of all three search firms.
On a motion by District 3 Councilman Brett Jones with a seconded by District 2 Councilman Kenneth Lambert, the council voted 4-1, with Lewis opposed, to interview all three firms at a future council meeting, preferably the next regular meeting and if necessary, by Zoom to accommodate the out-of-state firm.
Funds are not currently budgeted for this expense; therefore, staff will continue to analyze the fiscal impact and prepare a budget adjustment at a later date, if needed.