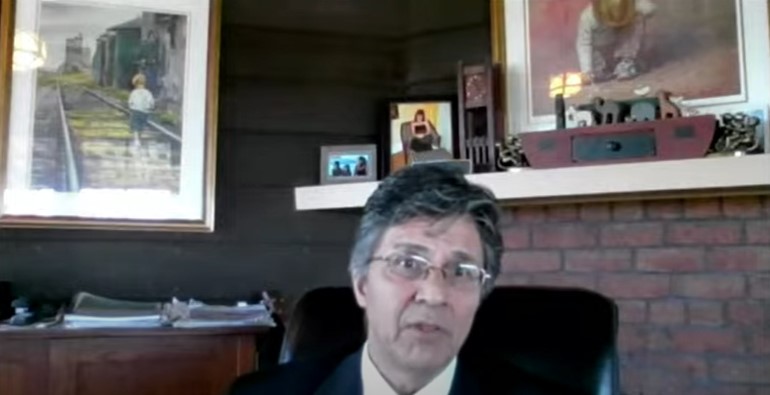 Special meeting gets contentious with council members Jones, Lewis trading barbs
On Thursday afternoon, August 25, 2022, the Los Banos City Council once again met to decide on hiring an executive search firm to help them choose a new city manager. As expected, following the 2-2 split vote during their August 17th special meeting with Mayor Tom Faria absent, the council voted to hire Koff & Associates this time on a 3-2 vote with both Mayor Pro Tem Ken Lambert and District 3 Councilman Brett Jones voting no. (See related article)
At the beginning of the very brief meeting, that began at 2:03 p.m. and ended 16 minutes later, Mayor Tom Faria explained his absence during the previous week's meeting stating he was with his sister as "her husband was on the precipice of life and death. Thanks to the surgeons and technology at Stanford University he's still with us." He then thanked "everyone for their prayers and positive thoughts as it seems to be working and let's hope it continues."
During their special afternoon meeting on August 17, the four councilmembers interviewed three executive search firms including Koff & Associates, represented by Frank Rojas who said he's "been doing recruiting since 1981", as well as Oklahoma-based ProRecruiters and Merced-basedSectaris Partners. But the second firm withdrew from the process and the third was just formed last year and has only helped with the hiring of one executive.
August 25th Meeting
The agenda for Aug. 25th was approved on another but rare 3-2 vote with Lambert and Jones also opposing. Only one comment was read by City Clerk Lucy Mallonee during the Public Forum which was submitted for the last council meeting but had been lost in spam. Kimberlee Flores, who serves as a pastor at Bethel Community Church and a Los Banos Parks and Recreation Commissioner wrote to the council members about her concerns how the city is treating its homeless residents.
Selection of Search Firm
No member of the public spoke on the item during the meeting held online via Zoom although the remaining firms did not participate.
"There are only two firms in the running, now," Mayor Faria then said. "One of them has a great deal of experience…the other does not have that much experience."
Faria then made an usual motion as chair of the meeting to approve the hiring of Koff & Associates. It was seconded by Councilwoman Deborah Lewis.
"I am not in favor for either one of them. I'm sure they're good at what they do," Jones said, speaking first. "Here is why. In less than three months we'll have a new mayor and possibly a new council member and if we're being ethical about what is in the best interests of our residents it's not an unreasonable request."
"Our interim city manager has 960 hours that will carry us well into January. We'll have plenty enough time after election results to give direction to staff," he continued. "The only reason for a rush to hiring a new city manager is for absolute, reckless control."
"But let's just say council ignores better advice and hires a new city manager before a new mayor and possibly a new city council member are sworn in. We can only assume that by the last meeting of this year that there will be a closed session item on the agenda that's entitle, 'public employee discipline, dismissal release," Jones stated. "We will go into closed session with a city manager, and we'll come out without one. We will not publicly state any specific reason for terminating that city manager. But we'll act serious while telling the public the Brown Act prohibits us from discussing it."
"Just know that every decision you make from here, forward will determine if you're really for the best interest of our city, or if you just love wasting taxpayers' hard-earned money," the District 3 councilman stated. "Councilman LLamas, your comment in the Los Banos Enterprise is correct. Los Banos is at a crossroad and you, along with Councilmember Lewis and Mayor Tom Faria put us, here."
"Any reason you give to justify proceeding moving forward with a new city manager is like pissing down the backs of the taxpayers and trying to convince them it's rain. Now, do the right thing and postpone this selection of a recruiting firm," he concluded.
Mayor Faria then called for the vote, and it passed 3-2 with Jones and Lambert voting no.
Councilwoman Lewis then spoke saying, "Whether we are sitting here as appointed or elected we have a duty to the residents of Los Banos to do our job and do it until the day we don't sit here."
"I think it's reckless on the council member's part to read a statement and accuse the rest of us of not doing our job and being reckless," she continued. "We will move forward, and the city will work with the council to do what it has to do to find a new city manager. I don't see a reason why if we find one that there should be a meeting in December to dismiss someone unless that's the intention of the council that will be sitting at that time, which may or will probably be a majority different than we have, now."
"But it's typical as it has been since we have been moving forward with this process to have negative, slandering statements thrown at certain council members and I think it's inappropriate and it doesn't serve the community any purpose and it doesn't show good will and good judgement on any council member that does it to another one for no reason other than their own personal agenda," Lewis concluded.
City Attorney Bill Vaughan then mentioned, "There is a resolution pending to select Koff & Associates. It allows the interim city manager to enter a professional services agreement."
The council then voted 3-2, again to approve the resolution with Lambert and Jones dissenting.
The meeting was then adjourned on a 5-0 vote.
"Thank you, everyone. Have a great afternoon. Take care," Faria added.
Jones Responds to Lewis' Comments
In response to Lewis' comments, Jones later said about his own comments during the meeting, "they're not negative or slandering. It's the truth. They just don't get it."
"Any half-way decent city manager who has any self-respect and common sense will look at the council meetings for the past six months and not come into a hot council, like this," he continued. "It will only be someone looking to promote up from where they're at. It will not be for the city it will be for themselves."
"The more they push this along, the more money they will waste that could be used for homeless, cleaning up the streets, fixing our roads," Jones stated. "Ethically, I told Tom he shouldn't be voting on this when he's going to be gone in three months. But this is power, and control and I've been saying this from day one."
Asked if the people don't care since no one spoke or submitted comments on the matter, Jones responded, "they're fatigued. The employees are fatigued. We can be the best city in the valley with the right council."