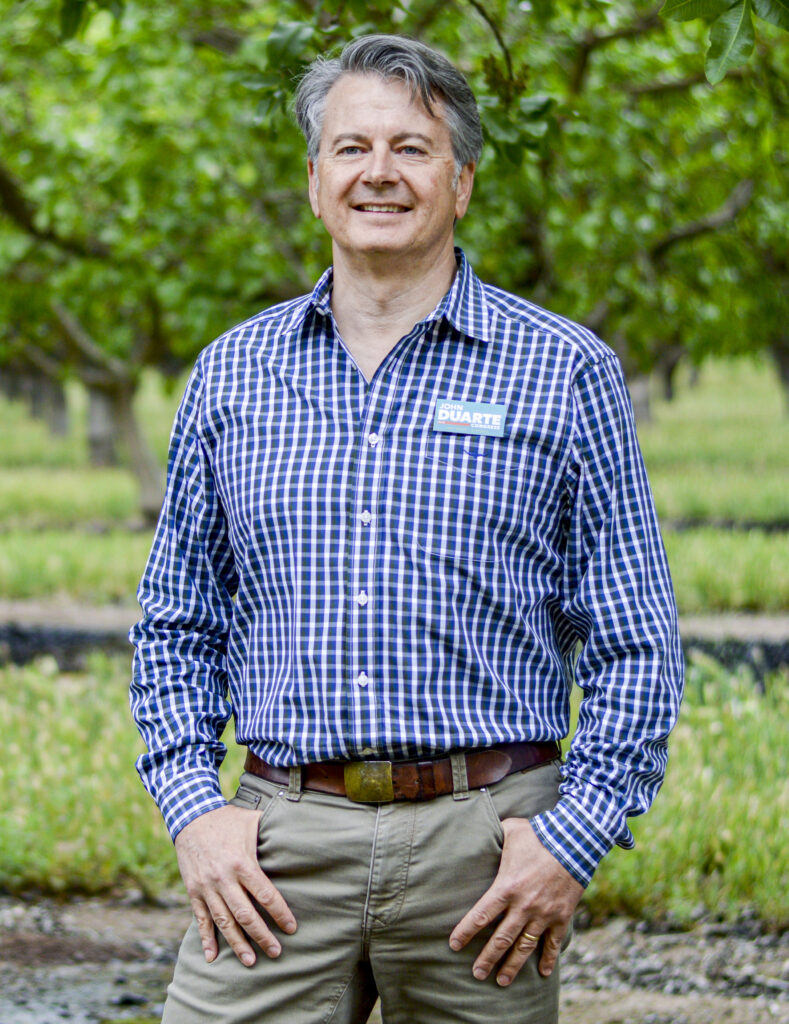 "To get America on the right track"
A Valley native, born in Modesto, John Duarte is a fourth-generation farmer now running for Congress in the newly drawn 13th District which includes Los Banos. He and his brother, Jeff own Duarte Nurseries in Hughson which grows almonds, walnuts, pistachios, grapes and poinsettias. John built the business from scratch, starting at his kitchen table to now, the largest permanent crops nursery in the U.S. Three generations of the Duarte family work in the family business.
Duarte is married to Alexandra, and they have four children ages 18 to 24, including "a senior in high school, two more in college and the oldest, she's out working, now," he shared.
Asked why he's running, Duarte said, "To get America on the right track. I strongly disagree with the Biden-Pelosi socialist agenda, and I am the candidate running to stop it."
He was asked about his main issues and what he plans to do if elected.
Economy, Inflation & Gas Prices – Supports Suspending Gas Tax
"The first thing we need to do is get back to drilling American oil," Duarte stated when asked about what he'd do about the economy, inflation and gas prices. "We need to reestablish American energy independence. It will bring down gas prices and prices across the board. Right now, families can't afford to put gas in the tank and food on their tables and that's wrong."
"Adam Gray voted to increase gas taxes by 43%," he continued. "Then during the summer when all of us in the Valley were paying $7 per gallon prices, he had the opportunity to suspend the gas tax and he didn't even show up. Then later, under pressure, he realized he had a political problem and he tried to get another vote to suspend the gas tax, simply as a shill because he knew it wouldn't pass. It's a fraud. You got to stand up and be accountable. Instead, he's trying to fool his constituents."
"The state was also collecting sales tax on the increased prices. The state had more than enough revenue," Duarte said. "Adam Gray wants every consumer paying as much money in taxes as possible to fund the State of California."
Asked if he would vote to suspend the federal gas tax Duarte said, "Yes, until we get domestic energy policy to produce affordable gas, we need to give the consumers the relief they deserve."
Water – Stop Flushing It to the Ocean
Asked what he'd do to provide more water to the Valley he said, "We've got to quit flushing our water out to the ocean. California has plenty of water. We have infrastructure issues, but we aren't using our infrastructure properly. It's all to protect the Delta smelt and the salmon. The smelt are dead, and the salmon have not been restored regardless of how many millions of gallons are flushed out to the sea."
"What we do have as a result are kids in Coalinga going to the hospital with respiratory illnesses of emphysema, asthma and Valley Fever," Duarte continued. "When you take the water off the farm the soil gets dry and the thermal winds blow and the dust in the children's lungs is devastating."
"They're draining the aquifers dry, pumping ground water because we haven't delivered the surface water," the candidate stated. "Farmers are being pushed to the brink by failed environmental policies."
Asked if he supports increasing the San Luis Reservoir for capacity Duarte said, "I support all the water programs to supply water for humans. My opponent, Adam Gray brags about his work on passing Prop. 1 the big water bond. But the money cannot be used to supply water to humans, only environmental uses. It's a typical socialist word play."
"We've devastated our actual environment. We're hurting human health with our already vulnerable populations," he added.
Public Safety – Secure the Border, More Police
On what he will do to increase public safety Duarte said, "We secure the border, we stop the fentanyl, we stop the international terrorists coming across, then we make sure we fund the police – giving the police departments throughout America the funding they need to clean up the Biden and Pelosi mess we have right now, due to their policies and inaction."
Jobs – Return to Recent Policies
Asked what he will do to bring more jobs to the state and the country Duarte offered, "We know what works. Look back two years ago, three years ago. The Jobs and Tax Cut Act, fiscal and monetary policy that makes sense, domestic energy that makes sense, regulatory policy that makes sense, tax policy that makes sense."
"We had the best post-war jobs market, ever. The best wage growth was at the lower levels," he continued. "We had Americans buying homes and a quality of life that was improving. We know the economic policies that work for working families and we need to get right back to them. We are going to stop the socialist agenda and have America thriving again."
Education – Supports School Choice
Asked what the federal government can or should be doing about education Duarte stated, "We should incentivize school choice and parents' rights across the country. We should establish clearly that a quality education is a right and that America's children obtain it. We need to instill voucher programs across America and schools need to be held accountable to those market forces to ensure we have the best education, again."
"Adam Gray has no history of standing up to the teachers' unions," he added.
"As Congressman, I'm going to endorse school board candidates who will promote school choice," Duarte said. "I don't want to argue with other parents about Critical Race Theory. I just want to be able to pull my kids out of there and not teach them that crap. As a parent of four children, I support school choice."
Asked about forgiving student loans he called it, "Absolutely ridiculous. There was no constitutional authority to do that. No constitutional process. Joe Biden put $400 billion on the national debt without an appropriation. It's forgiving loans of college educated families on the backs of less educated working families."
Asked what he would do differently Duarte said, "A federally backed college loan should have a very low interest rate. What happened was these private loan companies priced up the loans and increased interest on them. What Congress should have done was to work to help the students and graduates refinance their loans at lower interest. There were predatory lending practices that strapped the borrowers at high interest rates.
"A guaranteed student loan has a good repayment rate. They could have done things to give relief, but they didn't do the smart thing," he added.
Supports Light Rail, More Freeway Lanes
On the issue of transportation and the high-speed rail Duarte said, "The rail systems that we should make a priority in California are those that take people to work, daily to benefit the Valley I'm in favor of light rail trains. It's a huge quality of life issue. It saves our air quality. It's better for working families to access jobs."
"The high-speed rail is never going to be finished in its current format. It's a jobs program," he stated.
"A substantial amount of our air pollution comes in from commuter traffic," Duarte stated. "We need Bay Area commuter traffic issues solved, here in the Valley."
"We need to have our gas tax money building freeway lanes on I-5 and 99," he added.
Asked about the reroute of Hwy 152 Duarte said, "I will listen to the Los Banos folks about that if that's what they want. I will listen to the city council and Board of Supervisors. I'm their voice in Congress."
Asked if he had anything else to share the candidate responded, "Let's send a farmer to Congress."
"We're taking the small towns in this district very, very seriously," Duarte shared mentioning that he had walked door-to-door with volunteers in Los Banos this past weekend.
Efforts to reach Assemblyman Adam Gray for an interview were unsuccessful prior to publication time. To learn more about Duarte's campaign visit www.johnduarteforcongress.com.