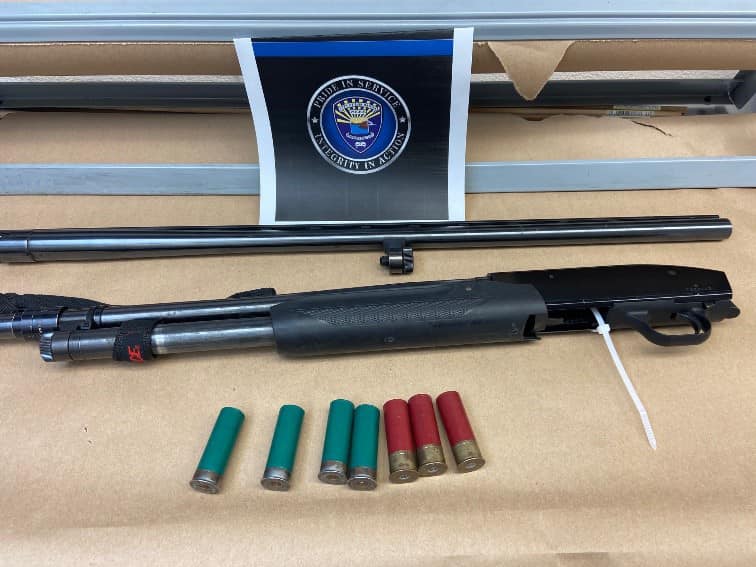 On July 10, 2022 the Los Banos Police Department responded to the 1600 Block of Foxmeadow Court to investigate a report of domestic violence. During the course of the investigation, officers learned the victim's husband, 44-year-old Thomas Michael Komarek of Los Banos, assaulted her and threatened her with a shotgun. The victim also reported Komarek took her cellular phone as she was attempting to call 9-1-1 for help.
An arrest warrant was obtained through the Merced County Superior Court and on July 14, Sergeant Jesus Parras and a Federal Agent spotted Komarek walking in the area of San Luis and Jeffery Road. As the officers attempted to arrest Komarek, he ran from the area but was caught and placed under arrest a short distance away.
Officers served a search warrant at Komarek's residence and located a loaded shotgun. Komarek is currently the subject of a court restraining order and therefore prohibited from owning or possessing a firearm.
Komarek was booked into the Los Banos Police Department Jail, pending $50,000.00 bail, charged with domestic violence, brandishing a firearm, preventing the use of 911, violation of a domestic violence restraining order, resisting arrest and prohibited person in possession of a firearm.
According to recentlybooked.com he also faces charges of resisting arrest.
According to localcrimenews.com, Komarek has a history of arrests over the past five years all by the Merced County Sheriff's Department for drugs, public intoxication, violating a court order on domestic violence charges and vandalism of $5,000 or more.
To leave an anonymous crime tip call 209-827-2545. If you have access to a computer and the internet you can also leave an anonymous tip at the Police Department's web page at www.losbanos.org. At the bottom of the "Contact" page simply click on the "report graffiti and other crime" link or visit the Merced Area Crime Stoppers by telephone at 1-855-725-2420, or at www.mercedareacrimestoppers.org.
Allen D. Payton contributed to this report.