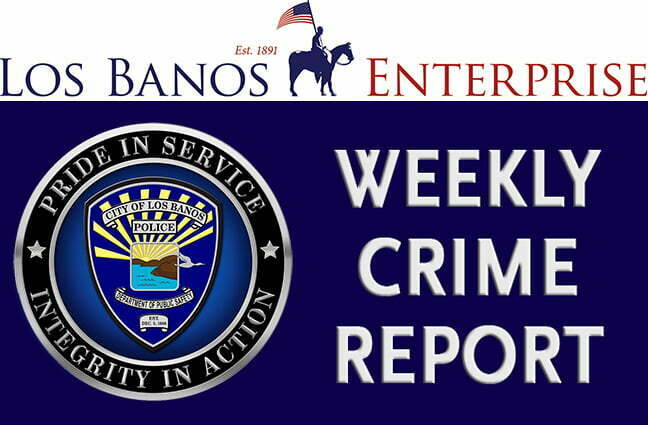 According to the Los Banos Police Department's website seven arrests were made, and the following police calls for service occurred in the city from Sunday through Saturday, June 26-July 2, 2022.
There was one call for a stolen vehicle; six assaults including one aggravated and three labeled physical domestic; there were 25 thefts including two by shoplifters who were detained, two thefts from vehicles and six locations with multiple thefts; two burglaries – one vehicle, one commercial; five reports of vandalism with three for vehicle vandalism; and 38 calls for disturbing the peace, 14 for loud music and parties, two for verbal domestic and one for which an arrest was made.
Arrests
As previously reported, on Wednesday, June 30 at 10:51 p.m., 21-year-old Zachary Patina was arrested for premeditated attempted murder in the 500 block of J Street for running down a man with his car following an argument. (See related article)
Also, on June 30 at 2:36 p.m., Juan Manuel Saavedra, age 46, was arrested in Walmart for trespassing. On Friday, July 1 at 1:04 a.m., Ernesto Reyes, age 35, was arrested at E. Pacheco Blvd. and Nickel Street for an outstanding arrest warrant on a DUI. Later that day at 4:28 p.m. 26-year-old Abel Anthony Lopez was arrested in the 500 block of Castlerock Avenue for battery of a spouse/ex-spouse/date.
As referred to above in the disturbing the peace calls, on Saturday, July 2 at 8:55 a.m., Derek John Duni, age 34, was arrested in the 700 Block of D Street for disorderly conduct, intoxicated with drugs and alcohol, drug/narcotics violations. However, he was later released due to insufficient evidence to charge him.
At 12:59 p.m. that same day, 20-year-old Malachi Mullins was arrested in near Mendocino Court and Woodbridge Street for carrying a concealed weapon on person and for carrying a loaded handgun for which he wasn't the registered owner. Then at 6:05 p.m. that evening, Liborio Saille, Jr., age 35, was arrested in the 1700 block of E. Pacheco Blvd. for obstruction and resisting arrest by a peace officer.