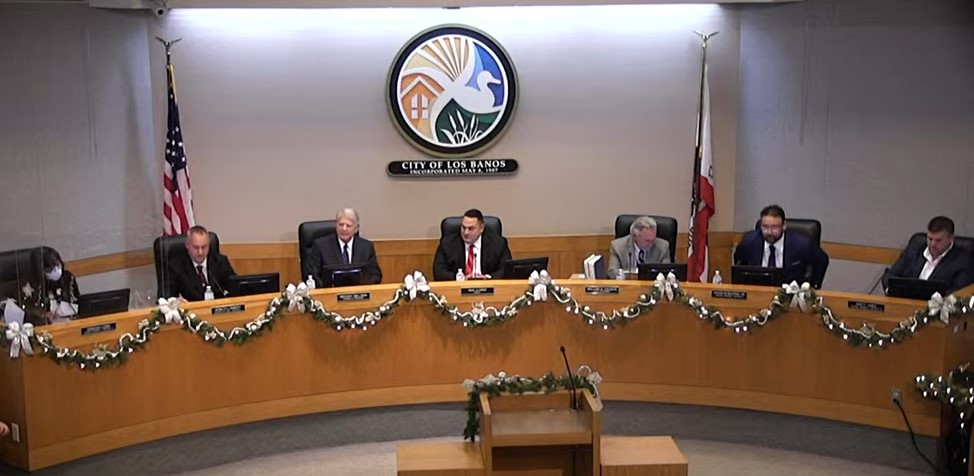 Honors LLamas, Tomas; reappoints Mayor Pro Tem Ken Lambert; ends RAD Card program
During the meeting of the new Los Banos City Council on Wednesday, Dec. 7, 2022, they voted to hold an application and appointment process to fill the vacancy in the city treasurer's position and to reappoint District 1 Councilman Ken Lambert to the position of mayor pro tem. The council also honored outgoing District 2 Councilman Refugio LLamas and City Treasurer Kim Tomas. In attendance to watch the oaths of office were District Attorney-elect Nicole Silveira, Supervisor Scott Silveira and a representative of Assemblyman Adam Gray's office.
At the beginning of the meeting Mayor Pro Tem Lambert presented certificates of recognition to city planning technician Justin Ragunton, as Employee of the Month and to resident Alyssha McClendon. Her certificate reads, "In recognition of your selflessness and acts of kindness you spread around our community. Your efforts are appreciated and do not go unnoticed."
"None of the stuff that I do would be possible without the community in it," McClendon said. "Paul and his wife have been wonderful in helping me feed and clothe the community. So, thank you everyone."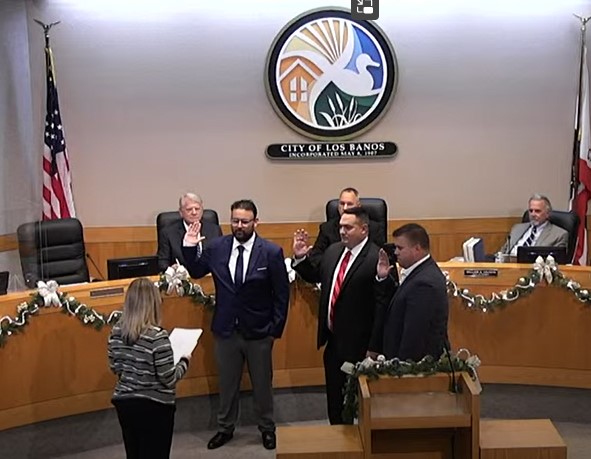 The council then voted 4-0 to certify the election followed by the oaths of office for new Mayor Paul Llanez and District 2 Councilman Douglas Begonia, Jr., as well as re-elected District 3 Councilman Brett Jones. That was administered by City Clerk Lucy Mallonee, who was sworn in for her new term by City Attorney Bill Vaughn, prior to the meeting.
Llanez and Begonia then took their seats on the dais, with Lambert handing the gavel to the new mayor to lead the remainder of the meeting.
Llanez then presented LLamas and Tomas with certificates of recognition for their service to the community. She served in the position since 2009 but chose to not run for re-election this year.
The council then voted to appoint Lambert as mayor pro tem for the next year.
"He's done an outstanding job with very little training, and I nominate Ken Lambert for the position," Llanez said before the vote.
Complaints About Homeless During Public Forum
During the Public Forum Llanez was presented with a Fresno Grizzlies minor league baseball team bat and jersey with his name on it. He and the council then got an earful as several residents submitted written comments and complaints about homeless residents, read by the city clerk, and asking the council to relocate the homeless encampment. Many of the emailed comments included the same form with boxes checked off next to a list of items of concern. Some were submitted anonymously, and other comments were submitted in Spanish and read into the record by Los Banos Police Sergeant Mendez.
UC Davis Spay and Neuter Grant
The council approved the Consent Calendar which included a one-year U.C. Davis Spay and Neuter Grant of $50,000 which the police department applied for and was awarded.
RAD Card Program Ends
The council then voted to redirect $550,000 of American Rescue Plan Act funds from the RAD Card program to fund direct assistance to small businesses and non-profits.
Budgeted for a total of $1 million, after a review, city staff decided that the program has not had the impact to the community as intended. Therefore, staff requested that the council terminate the agreement with a 30-day written notice to the vendor. There is approximately $250,000 held by the vendor that will be refunded to the city net of applicable costs.
Staff will return with the proposed program at a future council meeting. Lambert recused himself from the discussion and vote on the item as his business might financially benefit by the program.
Approve Appointment Process for City Treasurer Vacancy
Because no one ran for city treasurer in the November election, the city council is tasked with filling the position which pays $100 per month.
"There are two options," City Attorney Bill Vaughan. "Within 60 days you are to fill the vacancy by appointment. The other default is calling a special election…which would not be until June. We already have a process in place for applications and brief interviews. The recommendation is we accept applications over the next 30 days. That's the least expensive way to go. If you have a special election, you're talking about a $60,000 expenditure."
"We're looking at coming back to you at the second meeting in January with the applications," he added.
In response to a question by Lewis, Vaughn said, "They're really just an oversight. They have to have knowledge of investments. They have to have some background. Even though Finance is doing all of the work, they have a fiduciary requirement to give oversight to the city of your investments."
"Within the first two weeks I will bring them up to speed," said Interim Finance Director Brent Kuhn. "They'll have some working knowledge, hopefully. I don't think they need an extreme understanding. We'll help the with that."
Lewis asked what would happen, "if we can't find someone within 60 days?"
"It will fall to a special election," Vaughn responded.
"If you train them, I'm OK," Interim City Manager Greg Wellman said to Kuhn.
"Obviously, we don't want a special election," Llanez said.
Lambert then made a motion to hold an appointment process with applications to fill the vacancy. It was seconded by new District 2 Councilman Doug Begonia, Jr. and passed on a 5-0 vote.
Interim City Manager Offers His Farewell
With less than a month remaining in his allowable time as the city's interim manager, Wellman said, "Five months have gone by in a blink of an eye. This may be my last meeting with the council. It's been fun. I'll miss everyone."
"I can say in the three hours I've worked with you, it's been amazing," Llanez responded to laughter.
The council cancelled the regularly scheduled meeting on Dec. 21st due to the holidays and the next meeting will be on January 3.
During Council Member Reports Lambert and Jones congratulated and welcomed Llanez and Begonia. Begonia said he was excited to be on the council and work with the other council members.
Lewis spoke of the city losing out on $1.3 million in Merced County Association of Government funds for the Pioneer Road extension and expansion. She also congratulated the new members.
Llanez spoke last saying, "Unity. "I'm here to bring our city together."
"To the council members, all of you have earned my respect," he continued. "I look forward to these years together."
Llanez also thanked his "wife and kids for joining us, tonight."
Closed Session on Potential Litigation, City Manager
Following the public session portion of the meeting, the council entered closed session to discuss appointing another interim city manager and recruitment of a permanent city manager. Wellman is limited to working a total of 960 hours in his retirement and that time for Los Banos is quickly coming to an end. The council had the option of replacing him with another interim appointment or appoint someone to the permanent position.
They also held a conference with legal counsel on one potential case of anticipated litigation with significant exposure to the city.
Following the closed-door meeting, Llanez said there was no reportable action, and he adjourned his first meeting at 10:32 p.m.