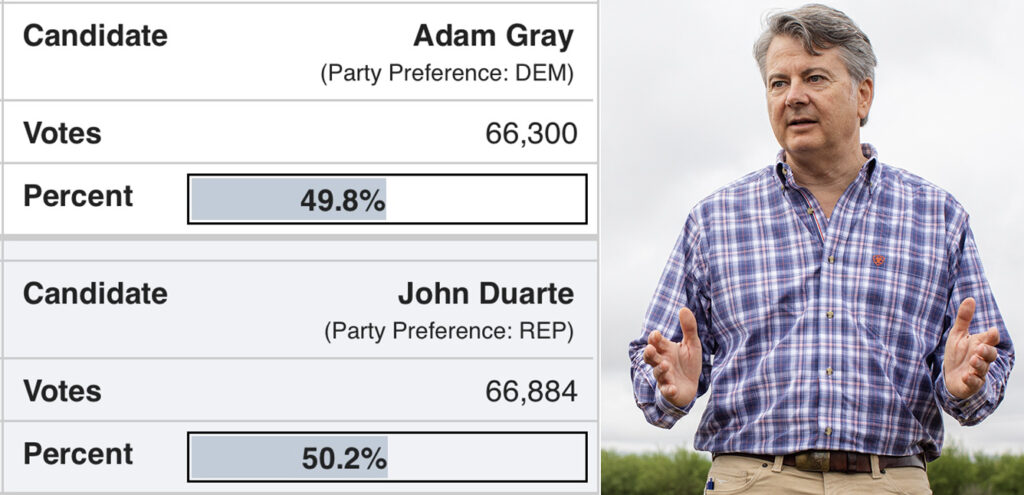 Nation's last remaining undecided congressional contest
After all the ballots have been counted in the five counties in which California's 13th Congressional District encompasses all or a portion, Republican John Duarte has defeated Democrat Adam Gray in the closely watched, tight, see-saw contest by just 584 votes or 0.4 percent of the vote. According to the California Secretary of State's website, the Valley farmer ended with 66,884 votes or 50.2% to the local Assemblyman's 66,300 or 49.8 percent of the vote. It was the last remaining undecided race for the U.S. House of Representatives in the country.
Gray Concedes
Gray conceded publicly Friday in a post on his campaign Facebook page posting a press release and writing, "There is no better place to grow up than in the Valley. It has been the greatest honor of my life to represent our community in the State Legislature. Whether elected or not, I will never stop fighting for the Valley."
Duarte Shares Plans
When reached for comment about his victory, Duarte said "We're looking forward to serving and fighting for the Valley. It's what we wanted and what we're going to do. The Valley made a choice for a farmer and a businessman as their congressman because they want on-the-ground practical solutions to meet their needs. We're going to fight for water on the farms, domestic energy to lower their cost of living and bring opportunity to the Valley."
Asked if he had heard yet from either Congressman Kevin McCarthy (R-Bakersfield), who is expected to be the next Speaker of the House, or anyone else in leadership, Duarte said, "Not yet. But I've received a lot of congratulatory texts and emails. I've been overwhelmed by all kinds of positive support and congratulations."
"Yesterday, we went through the capital office selection process," he shared about his next steps. "We're getting our district offices set up for constituent services over the next few weeks."
Asked if he plans to have a district office in Los Banos, the Congressman-Elect said, "We're going to start with our first office, then ultimately, we'll need one in the southwest part of the district. We've discussed having something in Los Banos but I don't want to commit until our team works through it. We're certainly going to have a Valley-wide team, so the Westside gets serviced."
"The district stretches from Lathrop to Coalinga and then over to Riverdale and all of Merced County. It's a big district and we're going to have field staff throughout it," he continued. "We're going to have a diverse staff that speak Spanish and Hmong. The Sikh community is an important constituency, as well."
"Then we'll start working with everybody, sheriffs, supervisors. It doesn't matter who endorsed who. It's all about getting results for the Valley," Duarte stated.
"Let's get jobs to the Valley residents for a better quality of life," he added.
In his press release Gray wrote, "After weeks of incredibly hard work by our election workers, the result has become clear. While I had hoped for a different outcome, I accept the results and have called to congratulate my opponent, John Duarte.
"This was one of the closest races in the country. More than 130,000 ballots were cast, and the outcome will be decided by just a few hundred votes. This isn't a Democrat or Republican district. To effectively represent us, our elected officials must embrace bipartisanship and independence. It takes courage to buck your own party leaders when they are wrong. That is what I have done during my time in the State Legislature, and I hope John is ready and willing to do the same for us in Congress.
"To my family, friends and supporters from all across the political spectrum – thank you. We accomplished incredible things together and truly punched above our weight.
"There is still so much work to be done. For now, I hope the next few weeks will allow us to reflect on what unites us as a community. We have new leaders at the local, state and federal levels. I will do everything in my power to help each of them be effective leaders."
Duarte along with all other members in the U.S. House of Representatives and the newly elected or re-elected U.S. Senators in the 118th Congress will be sworn in on January 3rd in Washington, D.C. Republicans will control the House and Democrats will control the Senate.