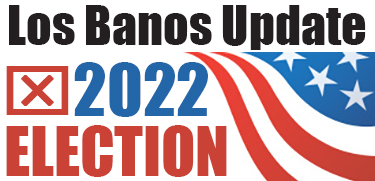 Few unprocessed ballots remaining to be counted in county
As of the latest unofficial election results update on the Merced County Elections website posted at 6:12 p.m. on Monday, Nov. 14, 2022, Los Banos School Board Area 7 candidate Dayna Valadao and City Council District 2 candidate Douglas Begonia, Jr. have again, increased their leads over the incumbents.
The update shows Valadao now, with 838 votes or 71.38% 27.6% to 324 o 27.6% of the vote for Ray Martinez expanding her lead from 335 to 514 votes since Friday's report. There were 12 write-in votes in the race which won't be included in the final, official tally.

With 1,035 votes or 59.21% for Begonia to 693 or 39.65% of the vote for Refugio LLamas, that has increased the challenger's lead from 221 to 342 votes since the previous update. There were also 20 write-in votes or 1.14% of the vote which won't be included in the final totals as there was no certified write-in candidate like there in the mayor's race.
Few Unprocessed Ballots Remaining in County
"There are just over 1,300 remaining unprocessed ballots to be counted in Merced County," Registrar of Voters Darlene Ingersol shared.
Asked if there would be another update this week she said, "The final update will be when we certify."
Messages on the S.O.S. website continue to read, "…(including conditional voter registration provisional ballots). Vote-by-mail ballots must be postmarked on or before Election Day and received by November 15, 2022."
In addition, the S.O.S. website explains, "Other ballots that are processed after Election Day include provisional ballots (processed similar to vote-by-mail ballots), conditional voter registration provisional ballots, and ballots that are damaged or cannot be machine-read and must be remade by elections officials."
To see the most recent list of estimated unprocessed ballots in each county click, here.
Please check back later for any updates to this report and keep checking this website for the latest election results.