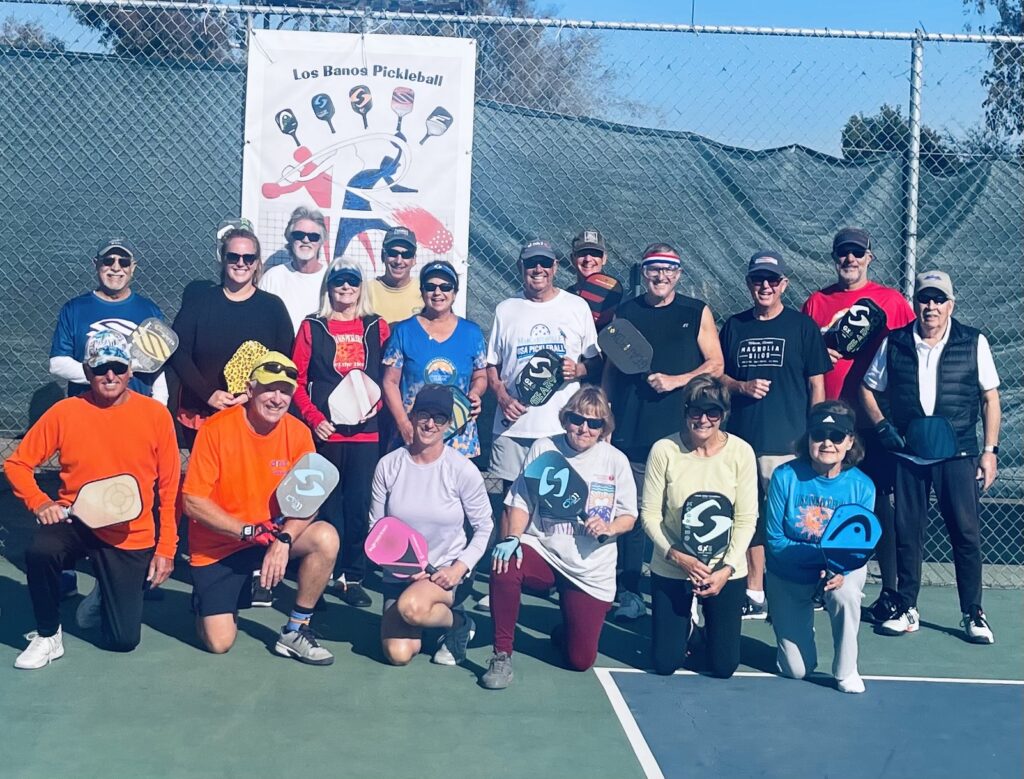 Everyone's talking about pickleball, the sport with the funny name! Pickleball is played like a big game of ping pong on a badminton-size court, and players hit the ball over a net. With almost 5 million players now playing nationwide, and a 40% increase of players from 2020, it has been called the fastest growing sport in America by the Sports & Fitness Industry Association in 2022.
Pickleball came to Los Banos about seven and a half years ago. Residents Laurie and Tom Balatti requested a way to play in the gym at the Community Center. The city provided two courts at that time. LB Pickleball became a reality thanks to the City of Los Banos. Curious players began to show up and play, and the group soon outgrew the Community Center courts. The city lined 3 courts on the basketball courts at Cresthills Park in response to this new growth, and for many months, the group would set up their own nets and play there. In the past few years, players have used both Los Banos Racquet Club courts as well as the Community Center courts to play. Currently Los Banos has well over 100 players and the City of Los Banos now plans to build dedicated public pickleball courts so Los Banos working people and students can play this wonderful sport.
So what's the draw? There are three big benefits: First, pickleball brings a sense of connectedness as people engage with one another in every community. Second, it is a highly accessible sport for people of all ages, socio-economic and ability levels. Finally, the sport contributes to good health and overall wellness. Pickleball provides an aerobic workout with minimal stress on joints and muscles. The endorphins that are released with play keep people feeling positive and energized.
"It's a great group of people to start your day with every morning. It gets me out of the house and gets me going early." – Anthony Parreira
"They say that laughter is the best medicine. Playing pickleball with all the wonderful people I've met or reconnected with makes me laugh every day and has made all the difference."
–Lane Windecker
"Pickleball has been a wonderful activity in my life. I am a mother of two young children and a wife of a first responder. Being able to play a genuinely fun sport with such a fun group of people has really been so uplifting. I appreciate the friendliness of all the fellow players and the ease of learning the game. I love being able to get physical activity and talking with my newfound friends. The game is so joyful! I am so glad pickleball has come into my life."
– Kat Young
Connectedness
Pickleball is a sport for all ages! It is a sport played by multiple generations of families and friends. In Los Banos, you will see people of all ages, backgrounds and cultures playing together on the courts. We have preteens, teenagers, 20 somethings, people in their 40's, 50's, 60's, 70's and 80's.
"As a young person who works from home and has limited social interaction, pickleball has been a friendly, accepting, and fun community that has made me love coming to play and socialize every week. It would have been very easy for the members to tell me it's a retired only club, but they welcomed me with open arms. It is a wonderful sport, and I'm very happy to be a part of the pickleball family! – Kayla Davis
"I am newly retired. I felt isolated at first. Most of my close friends are still working. Now I have a new family and I no longer feel isolated" – Kim Parreira
The Pickleball community sticks together and lifts one another up over the love of the game, spreading the good word of the sport, and developing relationships with fellow players.
"On the pickleball courts, strangers become competitors; competitors become friends; friends become family." -Rene Erratchu
Accessibility
When pickleball players come to play they participate in a sport that is accessible to everyone. Whether players are die-hard regulars, recreational drop-ins, or newcomers, courts are always abuzz with people of all body types, ages and interests. Also, because the cost of a paddle is minimal, Pickleball fits with everyone's pocketbook. This truly is a sport that engages a diverse group of people across our community.
"This is the best thing that's happened to me for a long time. It's a heck of a workout and I enjoy the fellowship." – Lonny Teeter
"My greatest joy has been running/walking! Now having pickleball is a second joy! I've learned a new game with friendship and I can play here in LB.Thank you LB and thank you Balattis for bringing pickleball to LB!" – Patty Lewis
Health Benefits
Pickleball is a great sport because people can achieve their fitness and social goals. The workout individuals get on a pickleball court is not the typical grind of going to a gym to work on a machine. This gentle impact sport is a great workout. Experts say it provides opportunities for well-rounded movement patterns because players are moving their bodies in different directions. Plus, pickleball contributes to improving agility, muscular endurance and hand-eye coordination.
"It's a fun way to get your exercise. And while playing, you don't even know you're exercising! With the pandemic and my recent retirement, playing pickleball gives me social connections. -Arlene Salha
"Since retiring, I began playing pickleball as a recreational sport. From a health standpoint, I have lowered my blood pressure, weight, and cholesterol. Socially I have made many new, close friends of all ages. I have improved enough that I now represent Los Banos on a competitive level throughout California. This is truly a sport that is growing exponentially. I am happy that the City of Los Banos has recognized its popularity amongst all ages and has taken a po-active stance in promoting the sport by planning new facilities." – Bill Rapp, DDS.
"It's made me younger, gotten me into shape. My doctor said: Whatever you are doing, keep it up!"
For citizens in Los Banos, there are solid reasons to try the sport. Perhaps for our city, the best part of pickleball is the fostering of wellness and community that results. Cities that invest in courts create a space where everyone can enter a game with paddles and a wiffle ball, meet new people, benefit physically and mentally, –– and find joy! Who doesn't want to live in that kind of place?
If you are interested in learning to play pickleball, please contact
Laurie Balatti (209) 829 9788 or Dayna Valadao (209) 587 2432
We will give new players important safety tips, show you how to hit and score, and you can participate in play quickly, even if it's your first time on the court.