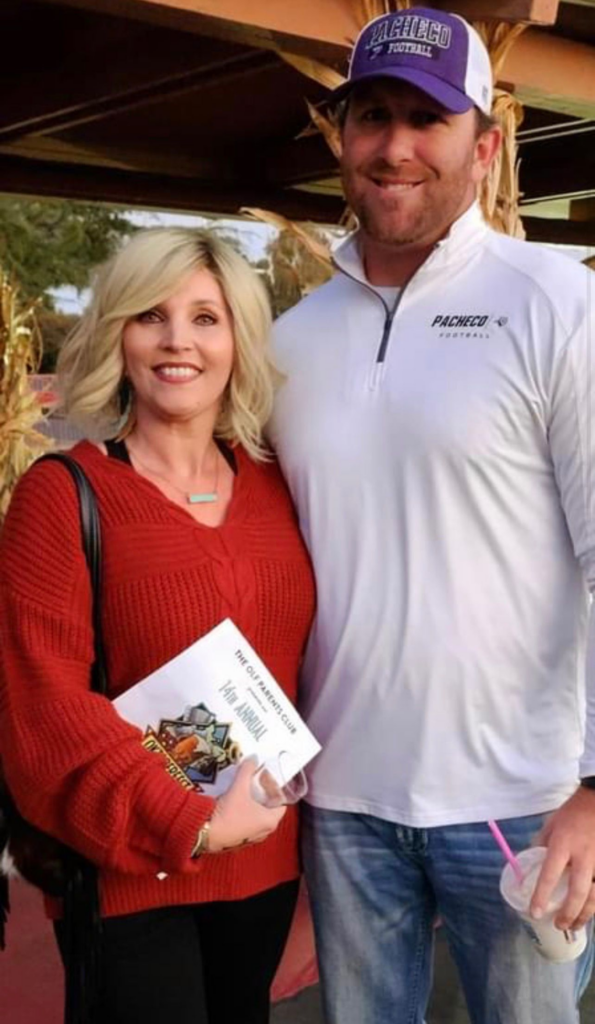 Jeremy Siemiller, head coach of the Pacheco Panthers varsity football team, is a dedicated husband and a father of three. Coach Siemiller played high school football for three years from 1996-99 and then went on to college where he continued to play the sport he loves.
Game wise, Jeremy's favorite memory was when his team went up against the Odell Mustangs in 1998, "I had a couple touchdowns in that game. We beat them 35 to 34 and that put us in the playoffs that year."
To most, football is more than just the practices and games. Football is friends and great memories.
"After the home games on Friday nights, there would be dances that we would go to and we would go to Denny's afterwards. Then, me and a group of guys from my team would go back to my house and play Mario Cart and Golden Eye on Nintendo 64," Jeremy remembered fondly.
After college, he wasn't quite ready to leave the sport of football behind.
"I just liked being around the game and once you're done playing football you can really do anything," Jeremy said. "You can't just get a group together and go out and play. It was a way to stay around and be active in the game and pass down what I learned to future generations."
So, he made the decision to return to Los Banos with the new title of Coach Siemiller. His career as an Assistant Coach went from 2008-18 where he helped class after class of football players reach their full potential.
Coach Siemiller's favorite memory from being an assistant was in the 2009-2010 season.
"We made the playoffs," he shared. "We had to travel to Tracy where they were the #1 seed while we were the #8 or #9 seed, I can't quite remember which one. They had beat us pretty good that year already.
"Well, we battled it out and wound up beating them!" Jeremy exclaimed. "We weren't expecting to win at all and yet we came back and won!"
In 2019 Jeremy traded in the title of assistant coach and took over as head coach at Pacheco High School. Siemiller is proud to be a guiding force in Los Banos youth football.
(The second article in a series highlighting reverential coaches of Los Banos. If you know of a special coach to highlight, please email: [email protected]. We'd love to feature him/her in our series.)