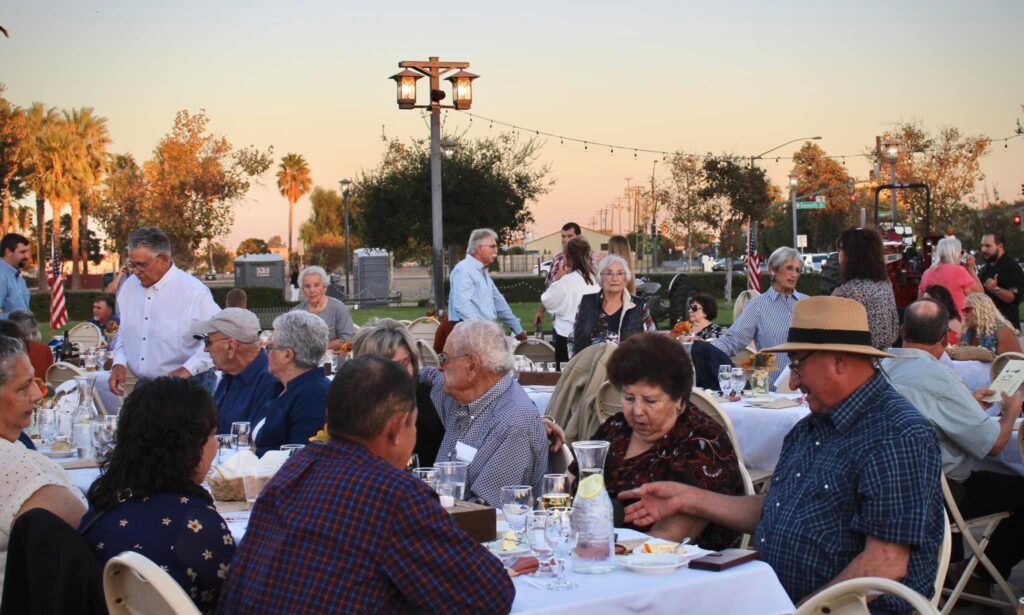 Patrick "Pat" Gallichio honored as Agricultural Leader of the Year.
The weather was nearly perfect on the evening of Thursday, September 22nd, when the Los Banos Downtown Association (LBDA) held their annual Farm to Table dinner and auction. Overlooking downtown Los Banos, around 200 people gathered at the Henry Miller Plaza to celebrate our downtown community, farmers, agriculture – and the 2022 Agricultural Leader of the Year, Mr. Patrick "Pat" Gallichio.
According to City Councilman, and one of LBDA's Board of Directors, Brett Jones, "The Farm to Table event helps support our city in two ways. First, it brings community members together to recognize and support prominent farmers that have made a direct impact on our community. Second, a fundraising event like Farm to Table helps provide much needed support for operations, planning and economic development for our downtown."
Jones went on to say, "The question that I get asked from time to time is, 'Why are downtowns so important?' It's simple, downtowns are the heartbeat of any city, and a thriving downtown means we have a strong economy throughout our community."

It was a sold-out event, according to Farm to Table committee members, Penny Glick, and Valerie Stapleton.
"We sold out within the first month. We were still receiving phone calls right before the event," Stapleton said.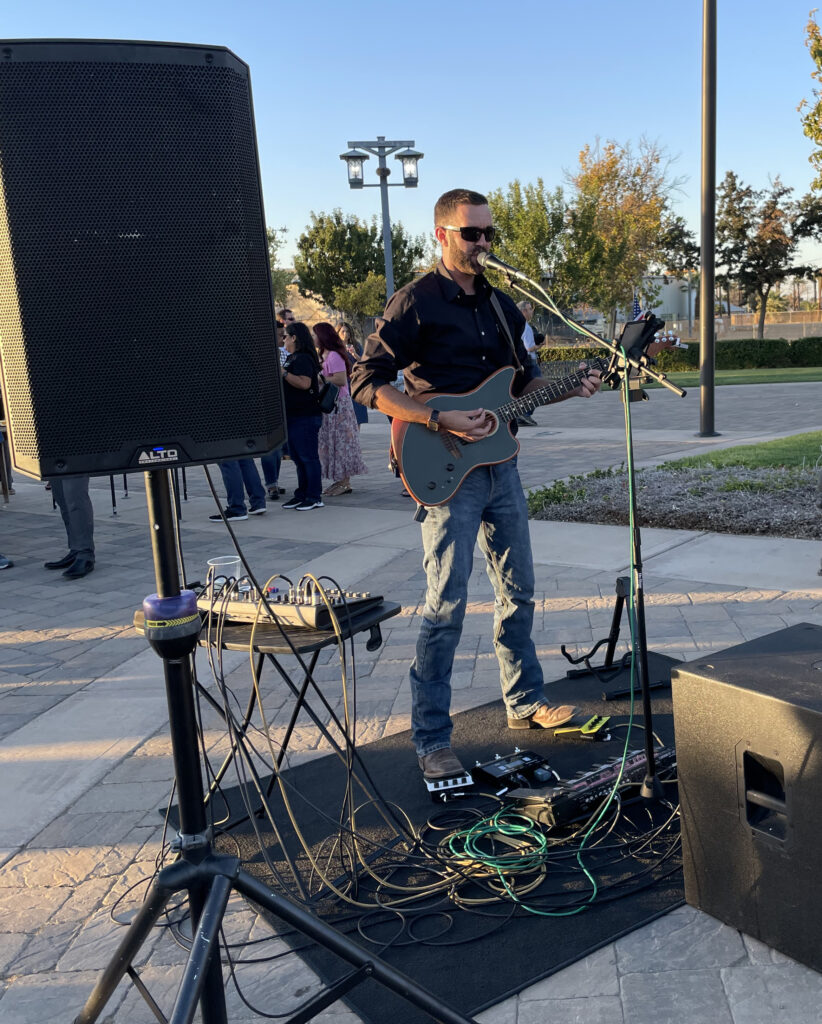 The evening was filled with organizational support, a community musician and local catering. FFA students from Pacheco and Los Banos High School served the delicious, three course meal that was prepared by In Good Taste Catering Co./ Bernie Medeiros.
Live entertainment was provided by guitarist and singer, Scotty Rich. Both live and silent auctions were led by Supervisor Scott Silviera. Auction items included: honey baskets, donated by Gene and Christine Brandi; metal rooster, donated by Christine Kinsley; prime rib roast, donated by Los Banos Abattoir Co.; The Famous German Chocolate Cake, donated by Carolyn Butts and a child's tractor, donated by David Santos. Sipsy's Handcrafted Bevs on Wheels provided beverages.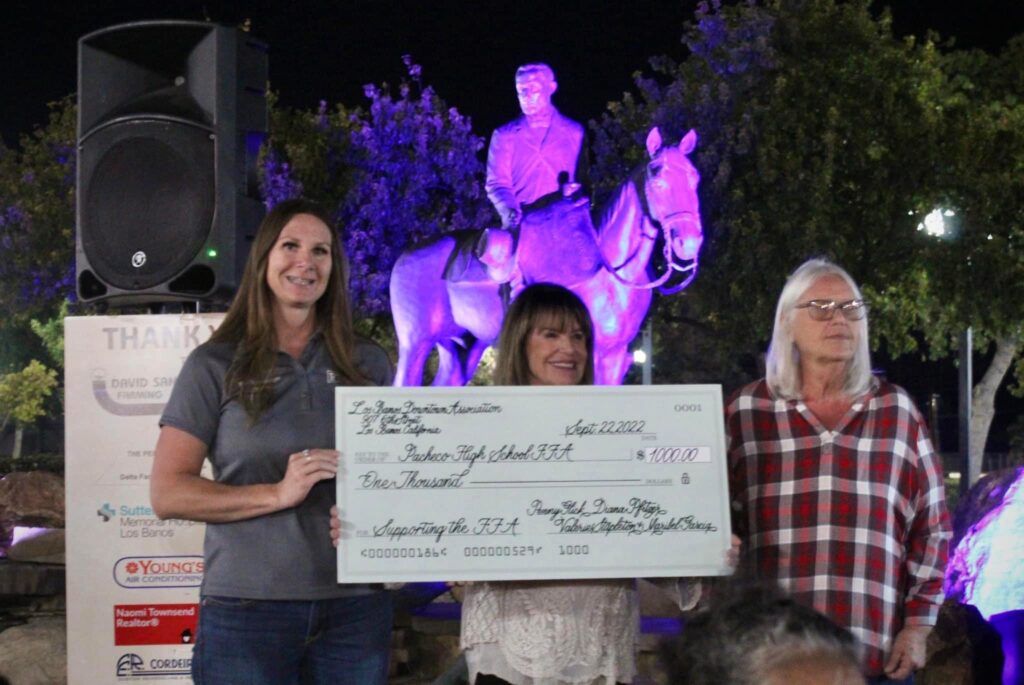 The highlights of the evening included a $1000 donation from LBDA to both Los Banos High School FFA and Pacheco High School FFA and celebrating Patrick Gallichio as he was awarded Agricultural Leader of the year.
After a heartfelt introduction from Paul Parreira, and a compelling speech by Gallichio, in which he honored the community, his fellow farmers, co-workers, employees, his daughter and his beautiful wife Tara, a few more words were captured from the honored guest, "It's humbling – I didn't expect it! I don't wanna think I'm the best farmer," Gallichio humbly replied when asked how he felt about winning farmer of the year. When asked what words of wisdom he had for future farmers he said, "Have a passion for what you wanna do and remember that it's a necessity that we feed and clothe the world."
Gallichio credits much of his success to Aldo and Virginia Sansoni and Fred and Mary Petroni for "giving me this opportunity 48 years ago."
This beautiful event was sponsored by David Santos Farming, The Morning Star Packing Company, The Pentagon Company dba Delta Farms, Sutter Health Hospital Los Banos, RPAC, Young's Air Conditioning, Mechanics Bank, Realtor Naomi Townsend, Cordeiro Custom Remodeling & Repair, Carlucci Transport, A-Bar AG Enterprises and A Plus Plumbing LLC.
Los Banos Downtown Association's next event is the Masquerade Casino Night. It will be held on October 22, 2022. Tickets available at 907 6th Street or by calling (209) 710-9022.