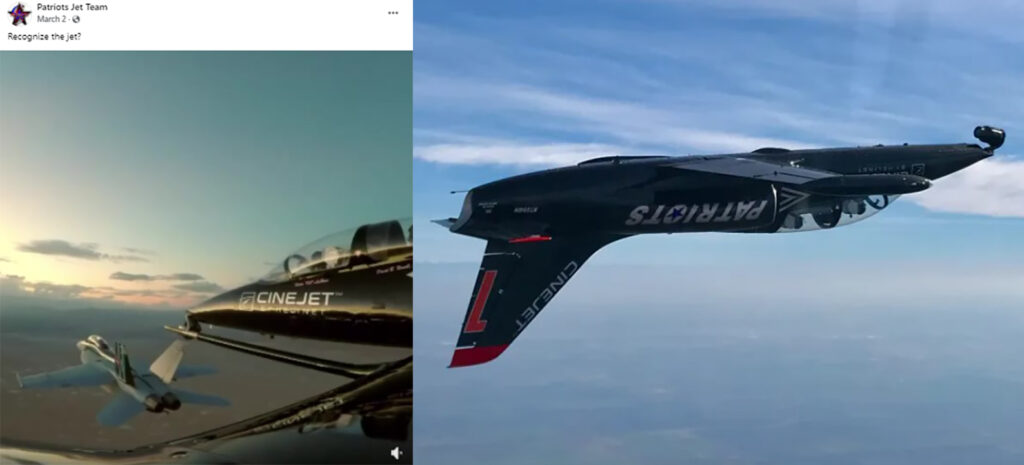 Two pilots, five crew chiefs and other team members participate
"it's real flying" – Randy Howell, Patriots Jet Team owner and one of two CineJet pilots
Planes, aerobatic pilots, crew chiefs and other members of the Patriots Jet Team based at the Byron Airport in Contra Costa County, California helped make the new movie Top Gun: Maverick, starring Tom Cruise, now in theaters. As in the original Top Gun film, the sequel features a variety of jet training and combat scenes in which the team provided their L-39 CineJet™ to film the high-speed, in-air shots.
According to their website, the Patriots Jet Team is the largest civilian-owned aerobatic jet team in the western hemisphere. The team was started in 2002 by founder and owner Randy "Howler" Howell, a Discovery Bay resident, who also helps pilot the special jet. Howell has more than 26,000 hours of flight time and over 30 years of flying experience with United Airlines. He has been an advanced instructor in aerobatics, formation, UPRT (upset prevention and recovery training) as well as a Check Airman and Simulator Instructor in a multitude of aircraft.
The CineJet™ high-speed, cinematography platform was launched in 2017 when the Patriots Jet Team partnered with Helinet.
In a March 2 post on the team's Facebook page it shows a brief video during filming of the movie from the CineJet™ Facebook page asking, "Recognize the jet?"
In another Facebook post on April 1 it reads, "The Patriots are so excited to finally see Top Gun Maverick come out. The #cinejet was key to many of the aerial scenes, can't wait to see them on the big screen."
Then on April 18 the team posted, "Lots of Patriots L-39's in the latest #topgunmaverick Trailer. https://twitter.com/tomcruise/status/1516039183332216838…"
A June 6 post on their Facebook post reads, "If you haven't already seen Top Gun: Maverick, you won't want to miss our Helinet CineJet aerials on the big screen! #TopGun #TopGunMaverick #TGM #CineJet #PatriotsJetTeam" and includes a brief trailer from the movie.
At the Top Gun-themed, Patriots Jet Team Foundation annual fundraiser last September, the Guest of Honor and speaker was American actor, writer and producer Glen Powell, who is co-starring in Top Gun: Maverick. He plays the part of pilot, Lt. Jake 'Hangman' Seresin. The evening's program also included a special behind the scenes look at the involvement the Patriots Jet Team pilots had in the aerial shooting of the new movie.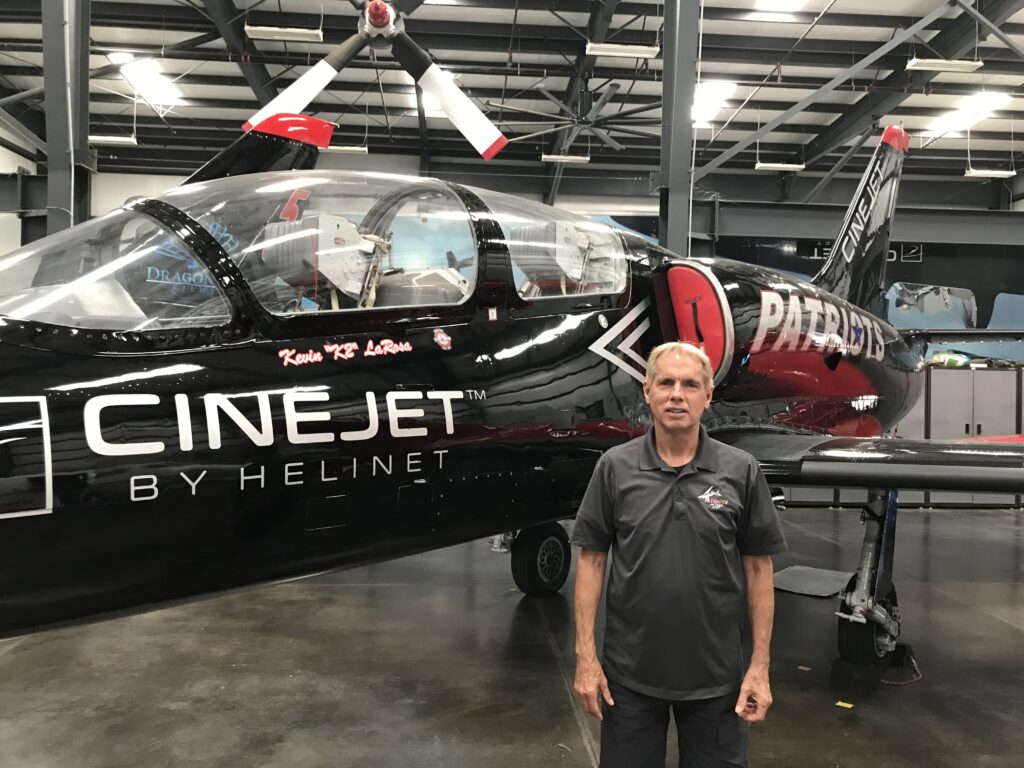 Howell Provides Details of His Team, CineJet, Filming and Training Cruise and the Other Actors
According to Howell quite a few members from the team participated in the making of the film, which includes two pilots, Howell and Scott "Intake" Kartvedt, and five crew chiefs to mention a few.
He provided more details about his organization and the filming of the movie.
The team provides three services, "one is flying a six-ship airshow similar to the Blue Angels or the Thunderbirds," he shared. "We also provide upset training, teaching corporate and airline pilots how to recover from an unusual attitude or an upset due to wake turbulence, weather, or mechanical failures, flight controls."
The third piece of the puzzle is "the CineJet operation for filming," he stated. "We partnered up with Helinet, a company in Southern California. They own the Shotover F1 which is a large, gyro-stabilized platform which can hold many different types of cameras for filming."
"We designed, engineered and mounted it to the front of a highly modified L-39 Albatross jet."
"This all started when my good friend, Kevin LaRosa, Jr., who I have shot commercials and movies with, in the past, came to me and said, 'hey, would you be interested on partnering up on putting a big, Shotover F1 system on the front of an L-39?'" Howell explained. "My first question was that's usually used on helicopters with a maximum speed of 150 knots. We need to go a lot faster if we're going to start doing aerial filming of Top Gun and the likes."
LaRosa has worked in the film industry for over 16 years as a stunt pilot and aerial coordinator. He and Howell are the pilots for the CineJet.
"So, we worked with the company Shotover based in New Zealand and they then started doing modifications to the six-axis, gyro-stabilized system that can be controlled, to look straight up, straight down, behind you, right and left," Howell stated. "We needed to do 350 knots and sustain three G's for maneuvering with the Super Hornets in the movie. So, they modified the arms, gears, motors and other items within the unit. They would then send it to us, and we'd test it up to the next speed, and the next until we reached 350 knots and 3.5 G's. They did a lot of studies in the wind tunnel and a lot of engineering prior to this."
"Once it was ready to go, we started launching every jet that every friend had, corporate jets. I flew the Mig-17, the Saberliners, as well as multiple L39's intermixed with the Mig-17 and we created an exciting, one-minute sizzle reel," Howell continued. "We sent that to Paramount, and they contacted us and said, 'we like it. We want to talk.' So, that's how it all started."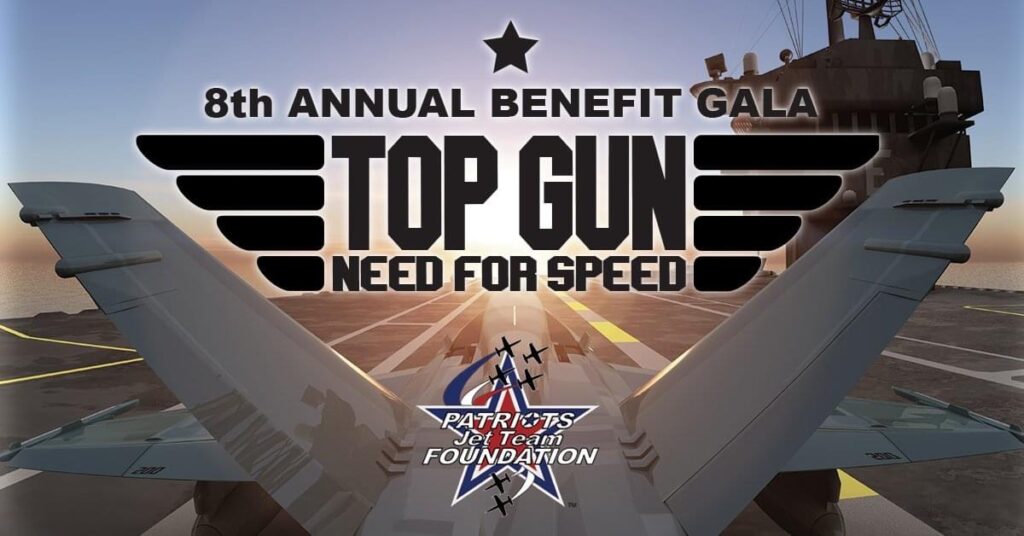 Work on Top Gun: Maverick
"We were then contracted to work on three different areas for the movie over about a year-and-a-half period," he shared. "First was filming the Super Hornets in flight and the majority of the tactics that you see in the movie. The second was training all of the actors and actress, Monica (Barbaro) is the only actress who portrayed a pilot in the movie. We flew with every single one of the actors including Tom. He then wanted to get checked out in the airplane because he loved the L-39 so much. I flew with Tom many times getting him up to speed in the airplane."
"The purpose for training all the actors and Tom was the Super Hornet was going to be pulling up to seven-and-a-half G's," Howell explained. "So, we went up in the L-39 which is stressed to eight G's and we flew over, and over and over again at eight G's. We flew up to 18,000 feet, we'd get a lot of energy up and we would put it into a spiral and sit at eight G's for long periods of time. That was to get all of them into a mindset that they could act, which is a lot of energy. Acting, you can't be putting energy into getting sick and nauseas, throwing up and all of that, and acting. So, we flew a lot with all of them."
"Then Tom loved the airplane so much, and Tom is an awesome pilot, a really, really good pilot, and a really good formation pilot, as well, which is a whole different skill set from normal aviating" Howell shared. "I trained him, and he took a check ride with the FAA. Now, he's qualified to fly by himself in the L-39 or with other people."
He then mentioned a video of Cruise in which he flew TV talk show host James Corden in the L-39.
"The other piece of the puzzle was to paint two of our L-39's in movie grey, sort of a flat, grey color and then put targets on both sides of the tail, both sides of the nose, top and bottom of each wing," Howell explained. "Production was not able to get a flying F-14 because they don't fly anymore, they're all retired and they couldn't get a Russian Sukhoi 57, either. We did the flying for that."
"So, it's real flying," he added.
"They blocked off 40 miles of the Feather River for us up near Chico," Howell continued. "Then one of our pilots, Scott 'Intake' Kartvedt a former Hornet and Blue Angel pilot in the Navy and I flew all the two-ship stuff with the two Su-57's and the F-14 through the Feather River. When we did that, it was about a six-week project, and we flew two to three times every day. We also flew off the coast of Point Mugu for the over water, ocean scenes with the two airplanes along with the CineJet filming us."
"The first time we flew, we scouted the river in a helicopter," he explained. "There's a lot of hairpin turns, reversals, with granite walls, a thousand, two thousand feet high on both sides of you. So, as you come up on these switchbacks, come back the other way, you need to know you're going to be able to come around there and some of them you can't, they're too tight. So, now you've got to come up over top of the mountain, roll inverted, pull down the other side of the mountain and roll out. All while being filmed by a helicopter or the CineJet with Shotover systems on them."
"After we flew the first one in the L-39's and spending several days scouting the area, taking notes, memorizing exactly which turns you were going to make all the way around, which turns you had to come over the top in," Howell shared. "And we were down in the dirt, we were down 10 feet off the trees through a lot of that and the first time we landed the two of us were visibly, our hands were shaking. We walked toward each other and hugged, 'Intake' backed up and said, 'I have 153 combat missions under my belt. I've never been under such high stress flying, before.'"
"So, it was definitely high-risk, but very calculated in the way we executed with all the scouting ahead of time," he continued. "We started flying up higher, first. Then we came down as we got more comfortable and then we started filming once we got really comfortable down low."
Asked how many times they flew the canyon route Howell responded, "many, many, many times."
"You know to get one second of film, you're gonna film an hour," he said with a chuckle.
"Every last, little detail in the Super Hornets, everything, everything is the real deal," Howell stated. "All the internal cameras they would mount inside one of our L-39's for proof of concept to show what it would look like to the producers, to the director, and what angles they wanted. Then they could go the Navy and say, 'we've already tested all these cameras in the airplane now, we need to mount them inside your airplane'."
"That's the whole story of Top Gun. A year-and-a-half involvement, but we were not filming for a year-and-a-half," Howell shared. "We might film for six weeks, then have a month or two off. Then we'd go back and film for a month or two months, and then we'd have time off. So, it was just over a period of a year-and-a-half."
They started filming in 2018 and finished up in 2019.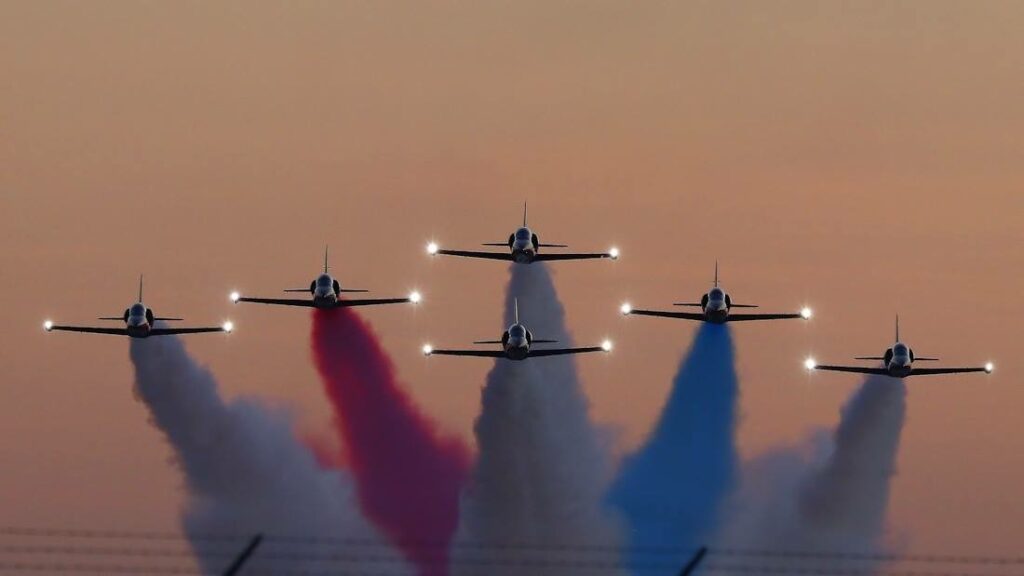 Filmed Another Movie Set During Korean War
Howell then shared about another movie they filmed, "which is going to be spectacular. It's based on a true story, during the Korean War era where there's an African American and a white pilot in flight school. The African American was a sharecropper's son. He was homeschooled. He only wore shoes on Sunday. The white pilot's dad was a prominent attorney, he belonged to the country club. The two of them became best friends in flight training."
"They finished flight training and started flying in combat. They were assigned to F-4U Corsairs, the gullwing Corsair, and they went into battle," he continued.
"I won't ruin the rest of the story for you," Howell stated. "There's a book out called 'Devotion' by Adam Makos. You can order it on Amazon. It's a really, really good story and it's a true story. I love true stories. It's going to be a great movie."
The aerial scenes were filmed in 2021, January to March in Wenachee and Pasco, Washington and then Savannah, Georgia.
The name of the movie is the same as the book, "Devotion" and will be in theaters Thanksgiving weekend beginning Wednesday, Nov. 23.
"Our good friend, Glen Powell, who starred in Top Gun and others, and who was our speaker at our fundraiser is one of the two stars, he plays the pilot/character 'Tom Hudner'," Howell shared.
He also played John Glenn in the movie Hidden Figures, "and he's starred in other movies, as well," Howell added.
Q&A
Asked how many members from the team participated in the filming of Top Gun: Maverick he said, "There was probably seven of us at different times. We took different crew chiefs who would maintain the airplanes. We have a big hauler, an 18-wheeler and it carries spare everything for the L-39's. Then we took Jet 7 and Jet 8 which are both set up with the Shotover wiring. There's a lot of mods to the airplane before mounting the camera. So, we had both airplanes at every event. We had other airplanes there too for doing other training, as well."
Asked how many pilots the team has Howell said, "we have six airshow pilots."
According to the Patriots Jet Team website, "they have logged over 105,000 hours of flight time and performed in more than 1500 air shows." Most recently, they performed over Venice and Mandeville Islands in the Delta prior to the fireworks show on Sunday evening, July 3.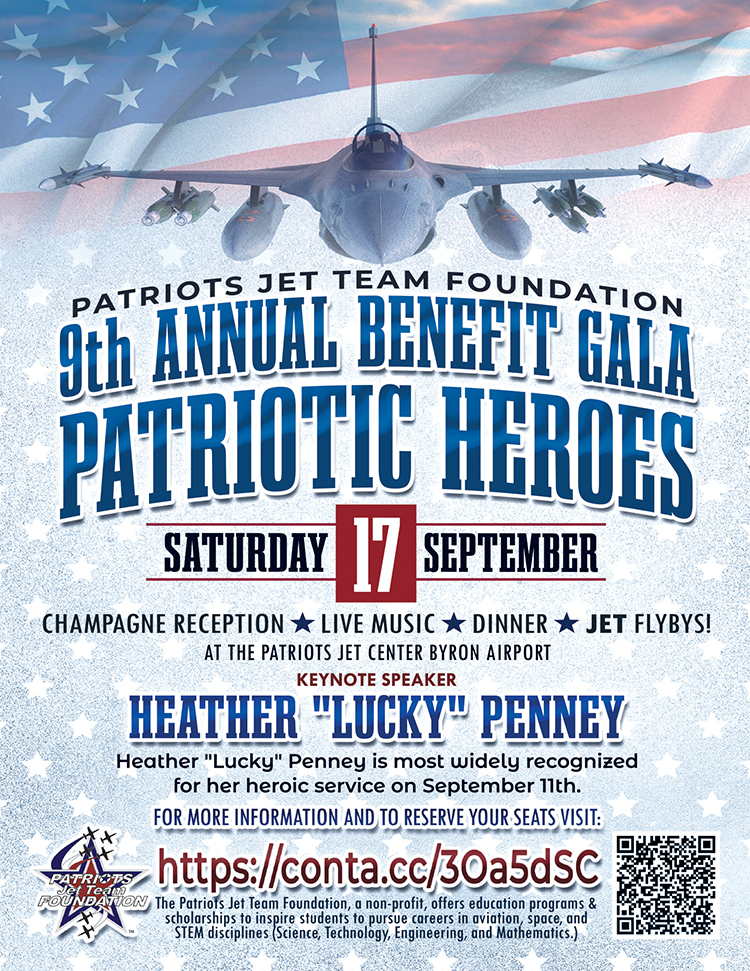 The Patriots Jet Team Foundation
Lastly, the accomplishment that Randy is most proud of is the Patriots Jet Team Foundation, a separate non-profit 501(c)(3) corporation which he founded in 2011.
"The Foundation educates and mentors youth in America in aviation/aerospace and STEM career paths. The Foundation has partnered with other STEM based Foundations, as well as public, private, charter and University school programs." Howell shared. "We cater to nearly 10,000 kids a year with rocket launch competitions, high-altitude balloons, introduction to aviation classes, aerodynamic classes and many more that we do, right here, at our facility as well as in the public schools system."
Be sure to attend the PJT Foundation Benefit Gala on September 17th. You can register at PJTF.ORG.
To learn more about the Patriots Jet Team visit www.patriotsjetteam.com.