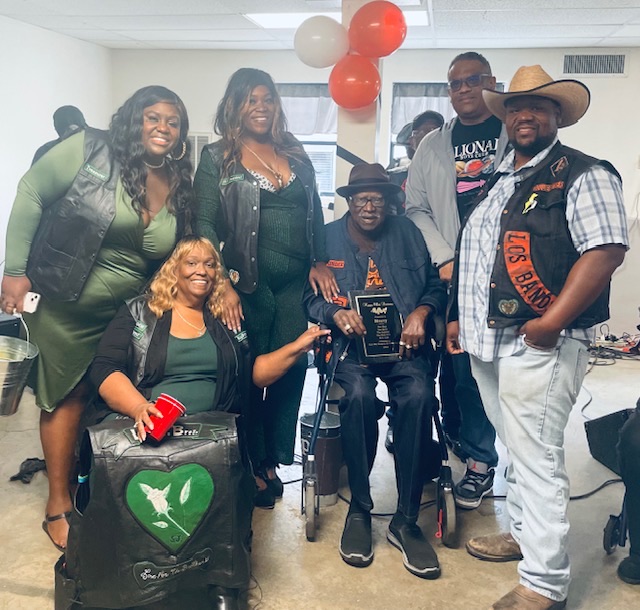 On Saturday, November 5th, a 90th birthday celebration was held for James "Heavy" Evans Sr.
It was a celebration with fun, friends, family, delicious food, great music – and tons of love!
When speaking with Heavy, he told me that he is a founding member, and helped start the Soul Brothers Motorcycle Club (MC) in East Palo Alto (EPA) in 1967.
According to the President of the Los Banos Chapter "Frog", there are now chapters all over California, and in states such as: Arizona, Arkansas, Texas and Washington. "Helping the homeless is something we are honored to do. And we love giving back to our community." he added.
Many loved ones and MC members from all over came to celebrate this joyous day with Heavy.
While enjoying his delicious meal, and sitting next to his beautiful wife Brenda, the live band filled the decorated hall with great music. Displayed in front of Heavy's table was his motorcycle "Droopy". It was also the main spot where endless hugs, love and pictures were taken and shared with him.
When asked how it felt to make it to the prestigious age of 90, Heavy joyfully replied, "It feels great – I never thought I'd make it this far!"
Many kind words were also shared about Heavy from loved ones, and his daughter Velma sang a beautiful rendition of "Happy Birthday" to him
A message from Heavy and his family, "On behalf of Heavy and the Evans Family. We would like to thank everyone who took out the time to come and celebrate Heavy's 90th birthday party. Thank you to everyone who helped donate, decorate, cook, serve, and clean up. With everyone's help we were able to have such an amazing party for Heavy that served over 200 plus bikers. The smile Heavy had on his face from beginning to end will forever be a part of the Evans family memories. Cheers to many more years, Heavy. Our forever SOUL BROTHER."
The Soul Brothers Los Banos Chapter, along with L.F.T Bros LB will be holding their second annual Community Christmas Dinner & Essentials Event on Saturday, December 17, 2022 from 11AM to 2PM at New Canaan Missionary Baptist Church located at 424 N. Mercey Springs Rd. in Los Banos.
According to the event flyer, "we welcome everyone to come out and join us that's in need of a warm meal, or would like a warm meal, and some essentials, clothing, coats, socks, toiletries…"
For more information or to donate please call: (650)630-4515 or (209)752-2202.