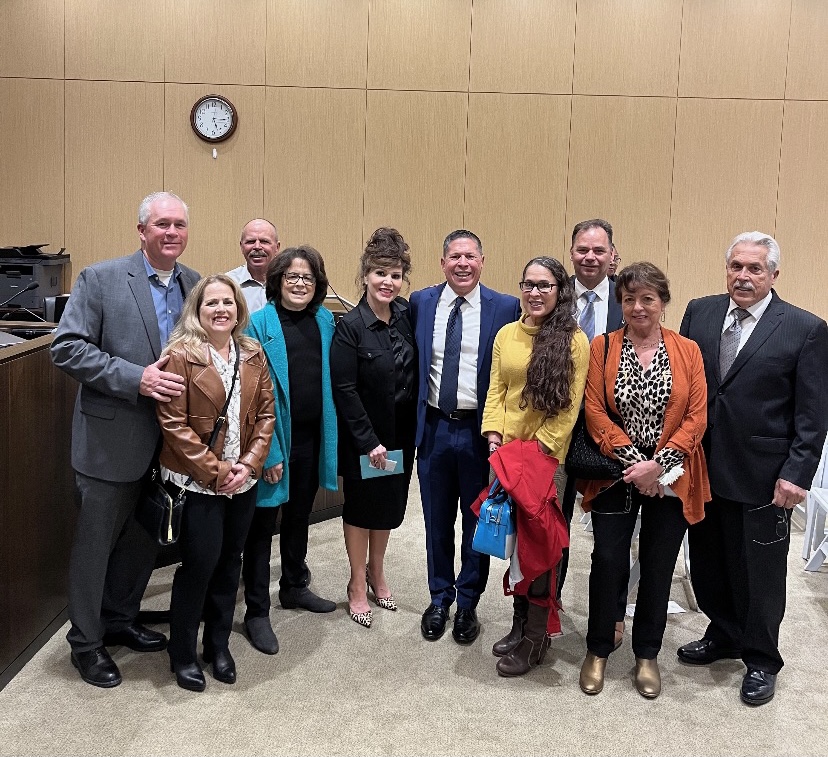 An inspirational story for all Los Banos, Ron Freitas has been elected the District Attorney of San Joaquin County. San Joaquin county covers Stockton, Tracy, Manteca, and Lodi. This critical law enforcement and legal job now belongs to a Los Banos native, with strong ethics, a dedication to transparency, and a willingness to take on any responsibility. You may ask, how did such an important and responsible position now belong to a Los Banos native? Well, it all started from the classroom seats many before and after within Los Banos sat in.
An alumnus of Our Lady of Fatima School and a graduate from Los Banos High School (in 1979), talking about his time in Los Banos, Mr. Freitas is grateful for common sense, good food, and the great people that surrounded him in his formative years. Upon graduating school, Ron attended California Polytechnic State University-San Luis Obispo. He originally pursued a degree engineering. Graduating in 1984, he attained a bachelor's degree in Agricultural Business; however, this would prove not to be his calling. He pursued a career in law at the University of the Pacific – McGeorge School of Law. From there he would earn a degree in his true calling, a Juris Doctorate in Law in 1988.
This was the start of 30+ years of experience in law. His first job right out of Law School was to be an Assistant District Attorney in San Joaquin County. From there he would climb up the ranks, to Chief District Attorney, on to, Supervising District Attorney, and finally onto Deputy District Attorney. During this time, he gained a vast amount of experience in law and prosecuted many criminals. Adding to this experience, in 2017 he was named Instructor of the Year by the California District Attorneys Association. Additionally, he was the Co-Chair off the California District Attorneys Association Gang Violence Suppression Committee.
From 2012 to current time, January 2023, a period of over a decade, he served on the Lodi Unified School District's Board as the Trustee from area 6. Upon speaking with Mr. Freitas, he noted, as a prosecutor he saw that many convicts were uneducated. Ron Freitas wanted to break the 'playground to jail' pipeline and joined to the board to help counteract that. His belief is that with more education, kids may realize their potential and not need to commit crimes when they grow up. Another factor was his mother was a teacher, and the importance of public education was instilled into him at a young age. His two daughters graduated from Lodi, and his grandson graduated in 2020. Not only was he an extremely busy man, but he was also a family man- able to raise two daughters and now finds himself a grandpa. Setting himself up for even more responsibility, in 2012 he was a member of the Board of Directors for the Giving Opportunities to Kids (GOT Kids) Foundation. GOT Kids would go on to raise $750,000 for needy Lodi Unified School District kids. All this and now Ron Freitas faces down an even more important job: District Attorney of the entire San Joaquin County. He oversees prosecuting criminals in multiple cities. Stockton alone, according to their online November 2022 crime statistics had over 11,870 crimes, not including December. That is more than 1 crime per every student attending LBUSD schools daily. His workload is cut out for him, and we here at Los Banos Enterprise wish him great success in his new position. May his story from humble Los Banos native be an inspiration to all students, that you can do great things with your life. Ron Freitas proves to be a great example of hard work and determination. He has a message for LBUSD students: "[You] can do amazing things if you work hard"
After all, once a Tiger, always a Tiger! 
Editor's note: Ron Freitas is my brother-in-law, and it is with great pride that we publish this article. When joining the Freitas family (officially in 2009), my husband would speak so highly of his brother Ronnie. As you can see, Ronnie is a busy man, so it goes without saying, our time with him has been limited; however, never have we been more proud to say we love you Ronnie and it is a privilege to share your name. He really is an inspiration to many of us-especially our youth here in Los Banos. He is the epitome of strong Los Banos roots, love for serving community and true grit. I know how very proud my father-in-law, Raymond Freitas, is of his son. What a moment in time to cherish and quite the legacy to leave behind.