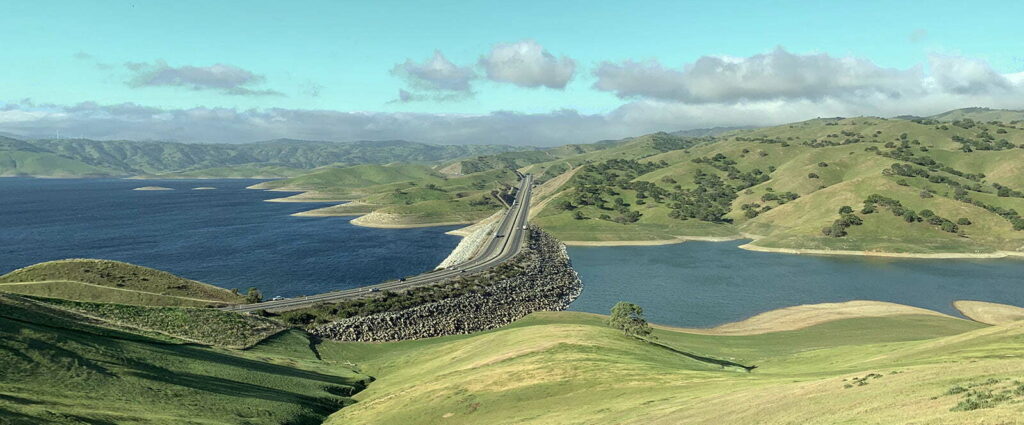 California's B.F. Sisk Dam makes San Luis the nation's largest offstream reservoir
It "will build water supply security for California communities, farmers and ranchers and wildlife refuges" – Assistant Secretary for Water and Science Tanya Trujillo
WASHINGTON — The Department of the Interior announced in March that the Bureau of Reclamation is providing project-specific funding of $100 million for the modification of B.F. Sisk Dam at the San Luis Reservoir, west of Los Banos. The funding, authorized by the federal infrastructure package, was highlighted in an addendum to the Bureau's initial spend plan for fiscal year 2022 funding allocations.
The infrastructure law provides $500 million to Reclamation over the next five years to support critical dam safety projects, streamline construction management, maintain the operational capacity of Reclamation's dams and minimize risk to the downstream public. These investments underscore the administration's commitment to developing longer-term measures to mitigate drought.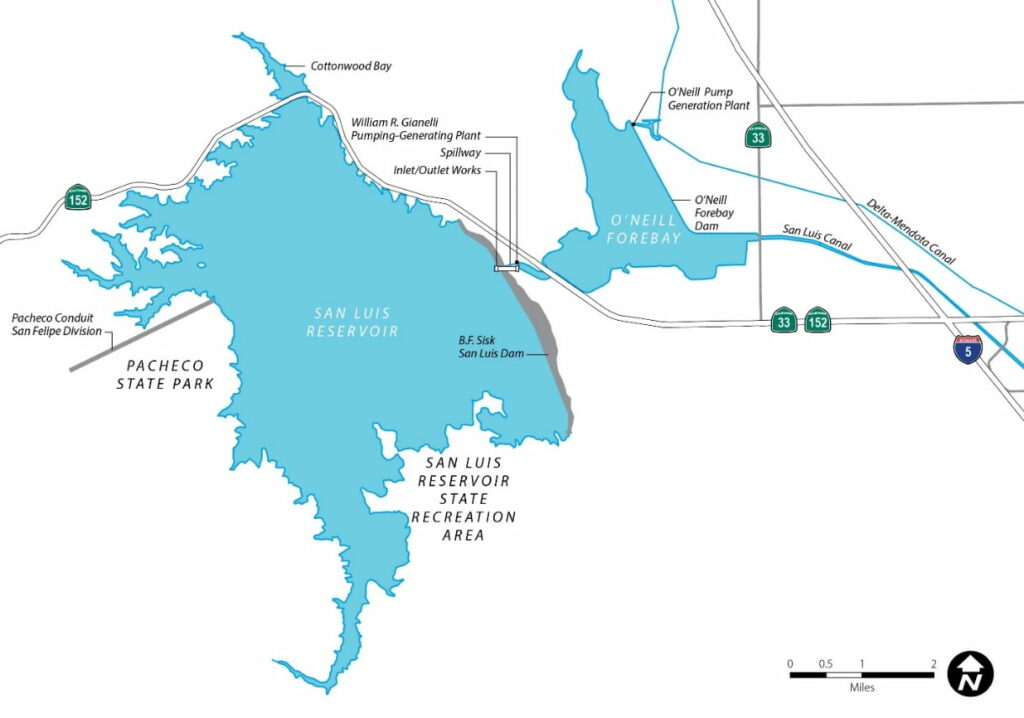 "Crucial funding…will further advance planned dam safety work at B.F. Sisk to reduce risk while preserving all the benefits that the dam and San Luis Reservoir currently provide," said Secretary Deb Haaland. "This is the first of many projects that will benefit from these historic infrastructure investments."
Construction began on B.F. Sisk Dam in 1962. According to Cody White, Archivist at the National Archives at Denver, President John F. Kennedy stood atop a simple wooden stage 10 miles west of Los Banos, California on August 18, 1962, and said, "It is a pleasure for me to come out here and help blow up this valley in the cause of progress."
As he helped "depress the dynamite plunger located on the dais, Kennedy would formally set in motion the eventual inundation of nearly 20 square miles of land."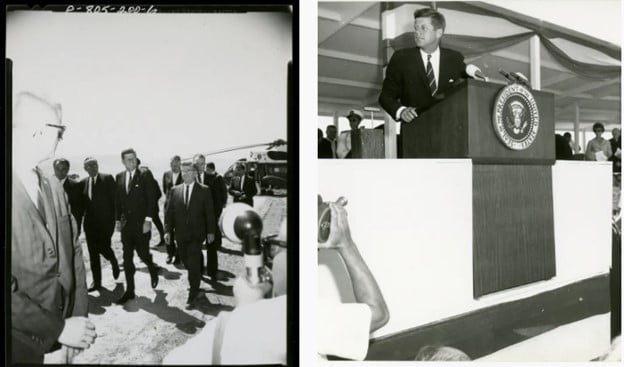 Completed in 1967, the dam impounds San Luis Reservoir, the nation's largest offstream reservoir, and provides supplemental irrigation water storage and municipal and industrial water for the Central Valley Project and California's State Water Project. In December 2019, Reclamation and the California Department of Water Resources announced a partnership to move forward on a $1.1 billion seismic upgrade with the signing of a Record of Decision and Notice of Determination.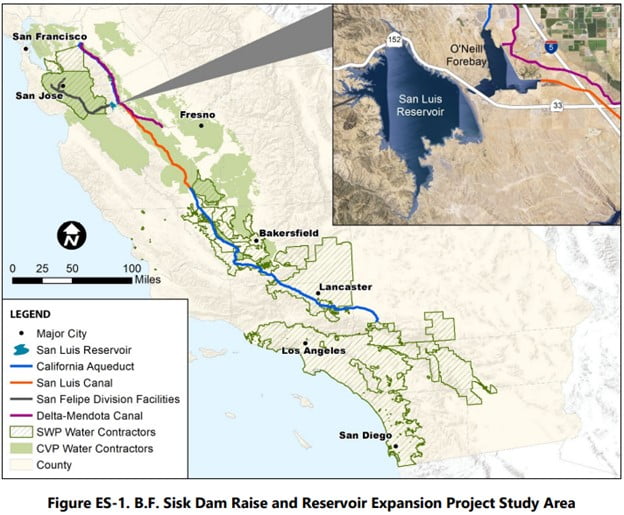 The dam safety project, Reclamation's largest project under the 1978 Safety of Dams Act, will add stability berms and other dam safety features to the existing 3.5-mile-long earthen dam. Increasing the dam height will reduce downstream public safety concerns by reducing the likelihood of overtopping if slumping were to occur during a seismic event. Exploratory blasting at B.F. Sisk occurred during 2020 in preparation for construction on the multi-year project to begin summer 2022.
"This investment in B.F. Sisk Dam, located south of the Sacramento-San Joaquin Delta, will build water supply security for California communities, farmers and ranchers and wildlife refuges," said Assistant Secretary for Water and Science Tanya Trujillo.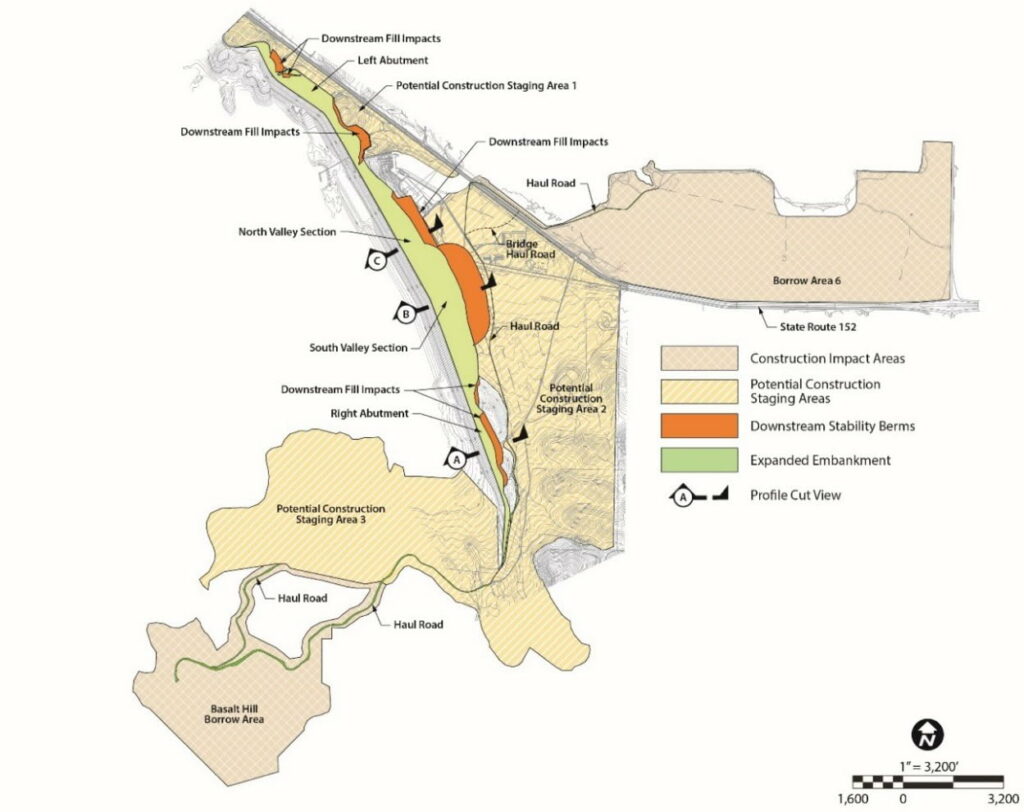 Construction is divided into three phases with a new contract for each phase. The award of the Phase I contract award is scheduled for FY 2022, using both Bipartisan Infrastructure Law Safety of Dams funding, as well as that provided in Reclamation's annual appropriations.
Detailed information on the programs and funding provided in the Bipartisan Infrastructure Law, the Fiscal Year 2022 BIL Spend Plan, and materials from stakeholder listening sessions are available at Reclamation's infrastructure webpage. Information about the modification of B.F. Sisk Dam is available at Reclamation's B.F. Sisk webpage.
See the Bureau of Reclamation and San Luis & Delta Mendota Water Authority's B.F. Sisk Dam Raise and Reservoir Expansion Project Draft Environmental Impact Report and Supplemental Environmental Impact Statement.
Allen D. Payton contributed to this report.