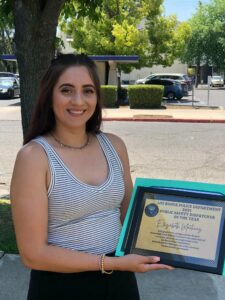 During a ceremony on May 26 at the Merced Elks Lodge, Elizabeth Martinez was honored as the Los Banos Police Department's 2021 Dispatcher of the Year.
According to a post on the department's Facebook page that day, "LBPD celebrates Elizabeth Martinez, our 2021 Dispatcher of the Year! LBPD staff along with agencies from Merced County joined together today to honor the 2021 Dispatcher of the Year recipients.
Elizabeth Martinez has been with the Department since 2018 and during her time has made a great impact in the Communications Center. She is one of our dedicated Dispatchers that answers 9-1-1 emergency calls, business lines, dispatches Police and Fire units, and completes timely entries into state databases. Elizabeth is well deserving of this recognition as she is one of our training officers, participates in several community events, and is always willing to pitch in to help the Department and the community."
"Congratulations and thank you for your service!" the department added.