Our Lady of Fatima School (OLF) is located in Los Banos, California and is a very good school. I think more children should attend. The school has grades TK through 8th with very few students in each class, which makes everyone very close with both each other and their teachers. The school provides many activities and sports programs. They also have a student government program. Sports activities include volleyball, flag football, basketball, softball, soccer, cheer, and track. There are also many other activities for the entire school including the Veterans, Science Fair, "Read Across America", and the Christmas program.
Our Lady of Fatima School does everything as fun as possible for their students, especially the younger grades. Student government often helps a lot with making activities like Wildcat Wednesdays, Halloween Carnival, and Red Ribbon Week possible. The younger students look up to the older grades. They have to try their best to maintain a positive image. Student government does a lot to help the school and the students appreciate every member for that reason.
Personally, I love OLF, and I am very close with most of my teachers and fellow students.  I am very involved in school activities including student government and many sports. My favorite part about OLF School is that every Friday we attend Mass at St. Joseph Catholic Church next door to the school.  I love that OLF gives us so many opportunities to bond with Jesus and to grow our relationship with him at a young age.  Overall, if you are considering transferring your child to Our Lady of Fatima School, I believe they would love it here.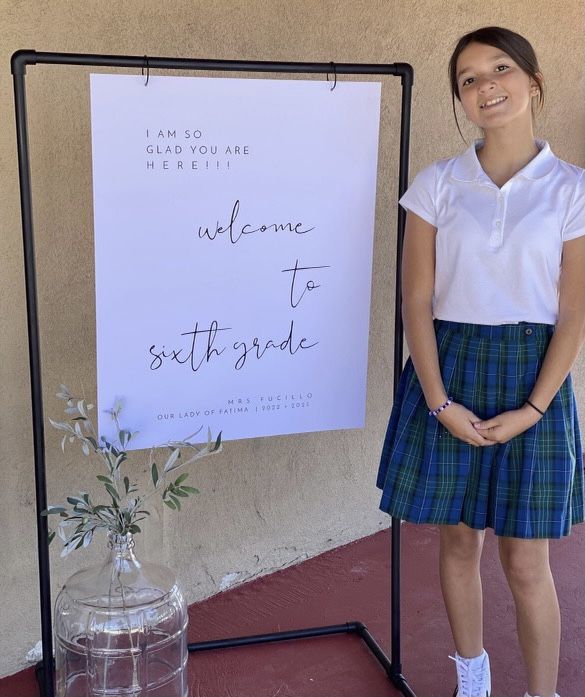 Editor's note: We received a request to collaborate with OLF and St. Joseph's Church on a student writing project. I did not edit the original work so the community can experience the greatness in the student's striving. Mr. Larry Byers, an active member of St. Joseph's coordinated these efforts and had this to state, "This is a "Press Release / Essay", which was written by one of the Our Lady of Fatima School (OLF) students. It was part of a creative writing project for their 6th, 7th, and 8th grade students. We received 35 beautiful and thoughtfully written essays. There were so many excellent essays, it was nearly impossible to pick the single best entry for inclusion in The Los Banos Enterprise. Attached is one of the best examples of academic excellence and spiritual emphasis that makes OLF such a great asset to the entire Los Banos community. It was written by Olivia Sanchez, a 6th grade student at OLF. We are proud to have such wonderful students, teachers, aides, administrators, and parents all working together for a common goal. If you wish to learn more about Our Lady of Fatima School or to enroll your child, please call them at 1 (209) 826-2709, Monday through Friday 7:30 AM to 3:30 PM. Or go to www.olfdof.org'"