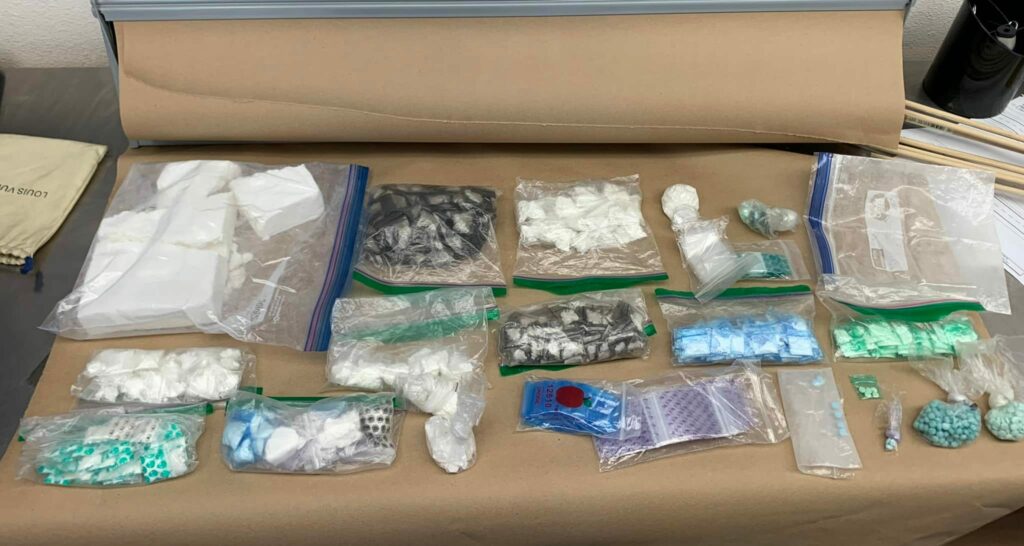 Suspect with history of arrests faces up to 40 years in prison, $5 million fine
FRESNO, Calif. — A federal grand jury returned a one-count indictment on May 26 against Joshymar Estrada, 33, of Los Banos, charging him with possession with intent to distribute a controlled substance, U.S. Attorney Phillip A. Talbert announced.
On April 28, 2022, the Los Banos Police Department, along with members of the Merced County Probation Department and Special Agents with the Department of Homeland Security conducted a probation compliance check at Estrada's home in the 500 Block of Hardwood Court. While officers attempted to contact Estrada at the front door, he ran out of the back door and threw two canvas bags over his backyard fence. The bags contained more than a kilogram of cocaine, including approximately 380 bags in various quantities packaged for distribution.
Officers detained Estrada and conducted a search of his residence according to the conditions of his probation. Officers also seized additional cocaine, a number of unidentified pills, and a digital scale.
Estrada was booked into the Los Banos Police Department, without bail, charged with possession of cocaine for the purposes of sales and violation of probation conditions.
This case is the product of an investigation by the Los Banos Police Department, the Merced County Probation Department, and Homeland Security Investigations. Assistant U.S. Attorney Jessica A. Massey is prosecuting the case.
If convicted, Estrada faces a maximum statutory penalty of 40 years in prison and a $5 million fine. Any sentence, however, would be determined at the discretion of the court after consideration of any applicable statutory factors and the Federal Sentencing Guidelines, which take into account a number of variables. The charges are only allegations; the defendant is presumed innocent until and unless proven guilty beyond a reasonable doubt.
Suspect has History of Arrests
According to localcrimenews.com, Estrada has a history of arrests dating back to 2015, including by the Merced County Sheriff's Department for revocation of probation in May of that year, 11350(A) – Possession of Narcotic Controlled Substance, 1203.2 – Revocation of Probation, 273A(A) – Child Endangerment, 496(A) – Receiving Or Concealing Stolen Property, 11370.1 – Possessing a Controlled Substance While Armed with Loaded Firearm, and 11353(C) – Adult Sell Controlled Substance to Minor on Oct. 29, 2015; and for 11378 – Possessing a Controlled Substance For Sale 11379 – Transportation/Selling A Controlled Substance, 11351 – Possession Controlled Substance for Sale, and 11352 – Sale or Transportation of a Controlled Substance on March 7, 2019.
Then on Feb. 29, 2020, Estrada was arrested by Los Banos Police for 11350(A) – Possession of Narcotic Controlled Substance, 23152(A) – DUI Alcohol/Drugs, 23152(B) – DUI Alcohol with BAC greater than .08 and 23550(A) – Driving While Under Influence with Prior Specified Conviction. He was arrested again on April 4, this year, by West Covina Police for 11370.9A – Knowingly Receiving or Acquiring Proceeds With The Intent to Conceal Nature or Ownership which is defined as money laundering in connection with drug crimes.
Allen D. Payton contributed to this report.