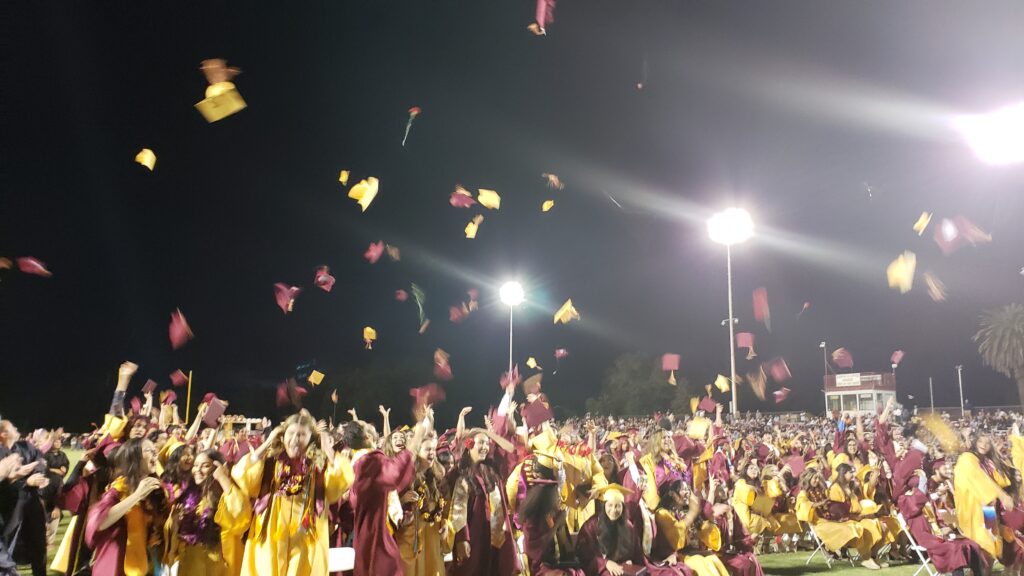 On a blustery night inside Loftin Stadium, Friday, June 3 the Los Banos High School Class of 2022 celebrated their graduation with each other, family and friends. They heard inspiring and encouraging messages from classmates and Principal Jason Waltman and cheered those who received honors and awards.
Following the traditional processional of Pomp and Circumstance, followed by the National Anthem performed by the Senior Choristers, the Pledge of Allegiance was led by Senior Class Officers, President Alexis Carlucci, Vice President Paige Smith, Treasurer Antonio Miramontes Andrade and Secretary Allyson Felix.
Waltman introduced special guests, Los Banos Unified School District Chief Academic Officer Sean Ritchey, Board President Anthony Parreira, and Trustees Margaret Benton and Gene Lieb, who joined him on the stage.
Speaking first, the principal, whose son, Tyler was one of the graduates said, "I've had the unique privilege of watching a lot of you grow up and I've loved every single minute of our time together on campus."
"Two words embody the Class of 2022, fun and friendship," he stated. "Sometimes a little too much fun. You brought the fun the first day you stepped on campus as seniors."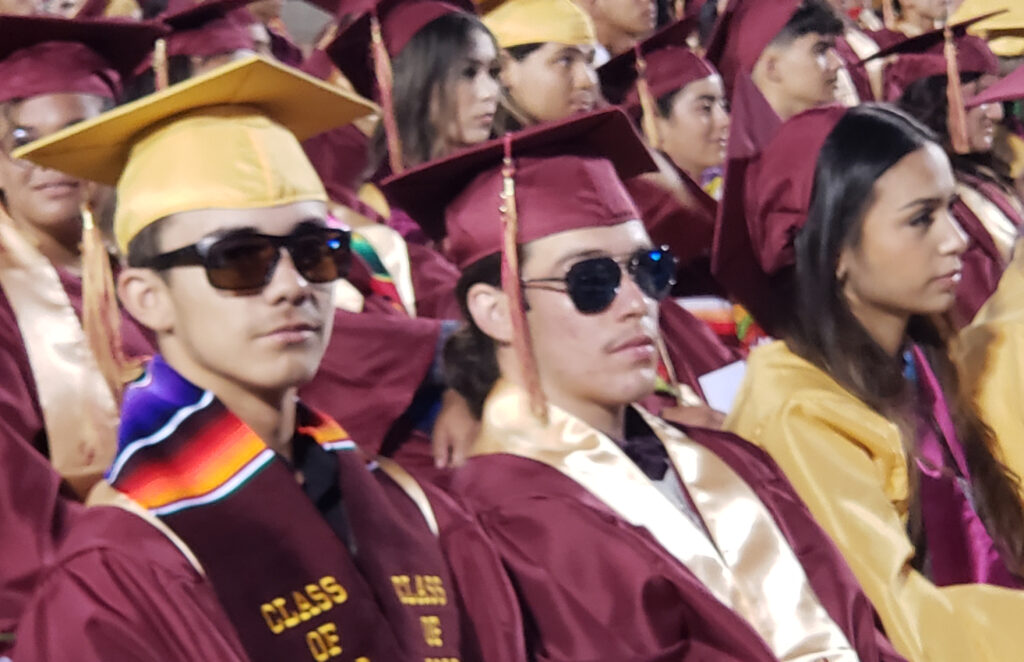 "In the midst of all the fun…take yourself seriously. Take your dreams and aspirations seriously," Waltman challenged the students.
"Remember, once a Tiger always a Tiger. Tiger pride," he concluded to cheers from the graduates.
Student speakers included Valedictorians Carlucci and Smith, followed by another speech by Carlucci as the Senior Class President.
"Wow. Valedictorian," Carlucci said. "I've always dreamed of getting valedictorian since I was a little girl…even before I actually knew what the word meant or what it took to actually get here. It's an absolute honor and it's a privilege and I take pride in all the work it got to get here."
She then thanked her parents, friends and teachers, "who helped shape my life thus far."
"More importantly, I'd like to give thanks to myself," Carlucci continued. "I don't give myself a lot of credit. But after the countless amounts of stress, the sleepless nights, the long days, the endless amounts of hard work and dedication, the 12 AP classes I had to take to get here, it feels good, really good to say that it paid off in some way shape or form."
"Life is so much more than high school. It really is only four years of my life," she stated. We're going to get away from this small town, go on doing bigger things, greater things, hopefully striving to make the world a better place."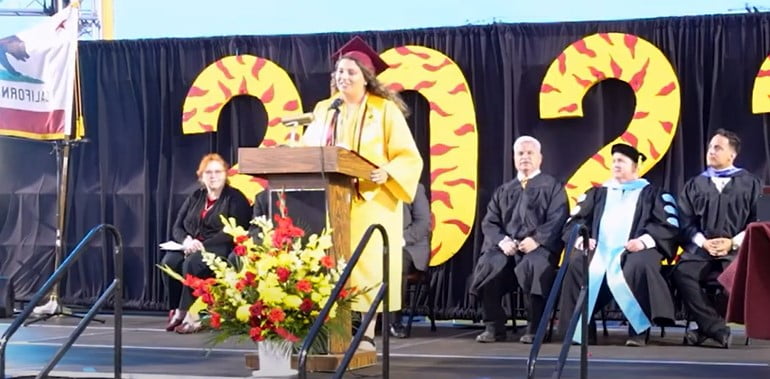 Smith encouraged her classmates saying, "What a roller coaster it's been. We have to give ourselves a pat on the back because we went through things no other generation will be able to relate to. From distance learning to going hybrid, and finally getting back in person, we can truly say we've done it all."
"Through it all we had to master the courage and confidence to make it to the other side," she continued. "By sitting her, tonight we can proudly say that we did it."
"Most importantly, always remember the courage you built up within yourself over the past four years," Smith said. "It will be one of the best qualities you can have as it may help you through the bad days and see to it that you will thrive on the good ones."
"Remember to always have faith in yourself. Congratulations, Class of 2022. We did it," she concluded.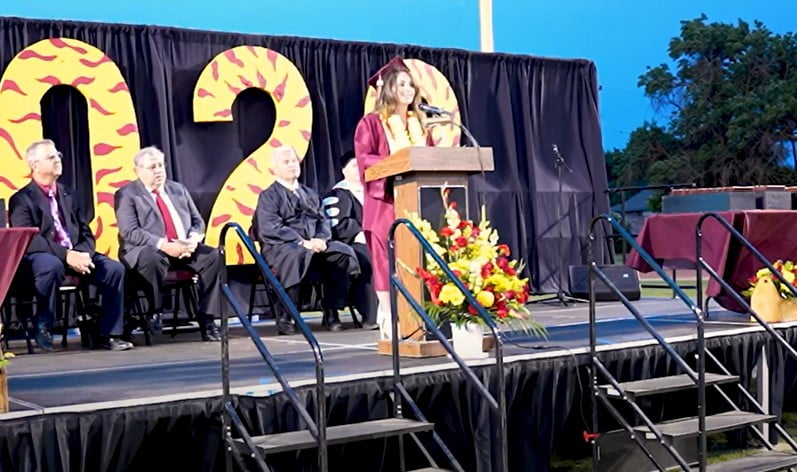 Carlucci returned to the stage, who reminded her classmates that she was also their freshman, sophomore and junior class president. "Congratulations to all of us for all of the accomplishments that got us to this point," she stated, then spoke of what the class did during their four years on campus.
Citizenship Awards were then presented by Trustee Benton to a male and female student chosen by the faculty. Kaylee Perreira and JohnPaul Vander Poel each received a savings bond donated by the VFW Post 2487 and American Legion Post 166.
The California Scholarship Federation Lifetime Members who have achieved academic excellence, announced by CSF Advisor Kelly Todd, were President Paige Smith, Vice President Anissa Sanchez, Sheila Adame, Kate Aragona, Hailie Benetti, Gianna Dahlgren, Allyson Felix, Gemma Fregoso Flores, Petrina Gilardi, Treasurer Emely Guzman, Elijah Habon, Kylie LaLonde, Juliana Love Liwanag, Gary Lu, Lizbeth Madrigal, Diana Meza, Antonio Miramontes, Valerie Ortiz, Victoria Paolini, Victor Regalado, Sydney Robertson, Davina Rosales, Emma van Loben Sels, Erin Vierra, Tyler Waltman and Angelica Warren.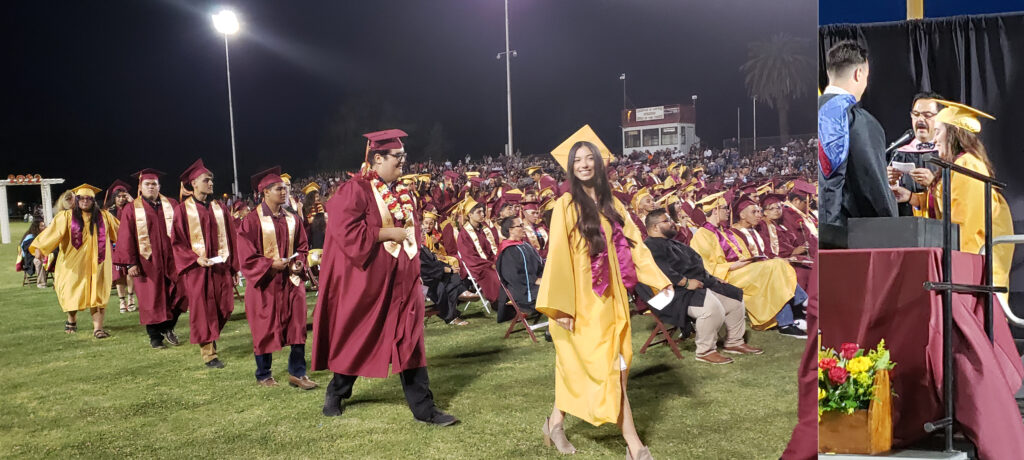 After Dr. Ritchey proclaimed the class qualified having met all the state and school district requirements and Board President Parreira accepted the class, the graduates received their diplomas. Los Banos Mayor Tom Faria was one of the two who announced the graduates.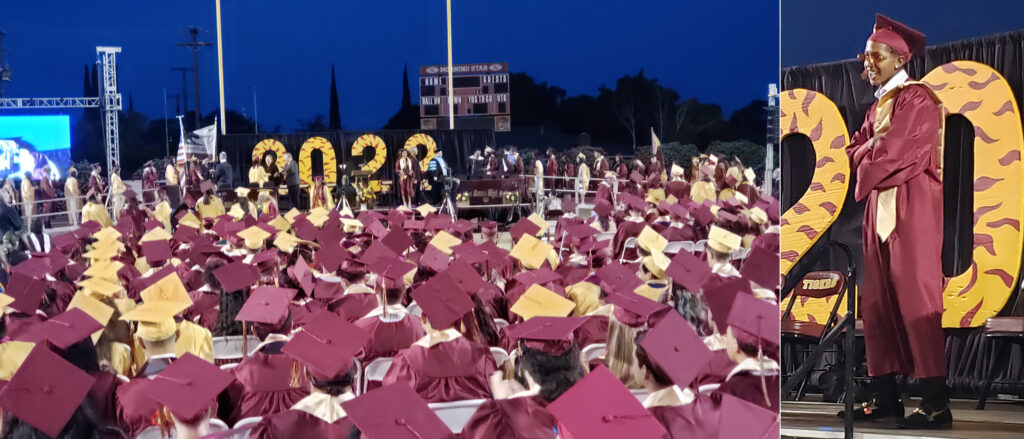 Student Body President Anissa Sanchez then offered a final farewell.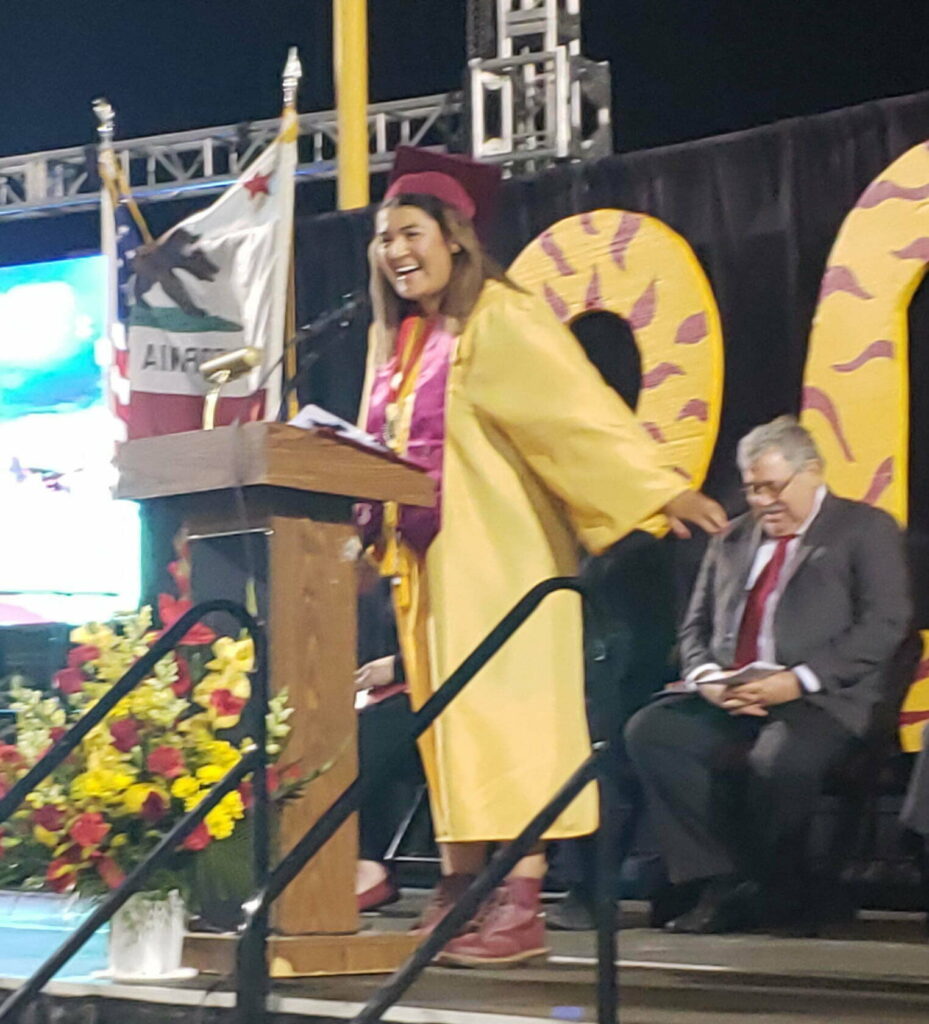 "I don't mean to sound corny. But I never expected to be in this position, and I am extremely grateful," she said.
"It's the small things that matter. It's the small things we're all going to miss," Sanchez stated. "From the bottom of my heart, I want to say how proud I am of every single one of you sitting in front of me, right now…that just walked across the stage."
"No matter where you're going, we'll always have a piece of each other within ourselves," she continued.
"To the Class of 2022, I'm rooting for you, and I always will be," Sanchez said. "Go out into the world and be great. But most importantly, be happy."
"There's a big difference between living and existing. I hope you all choose to live," she concluded.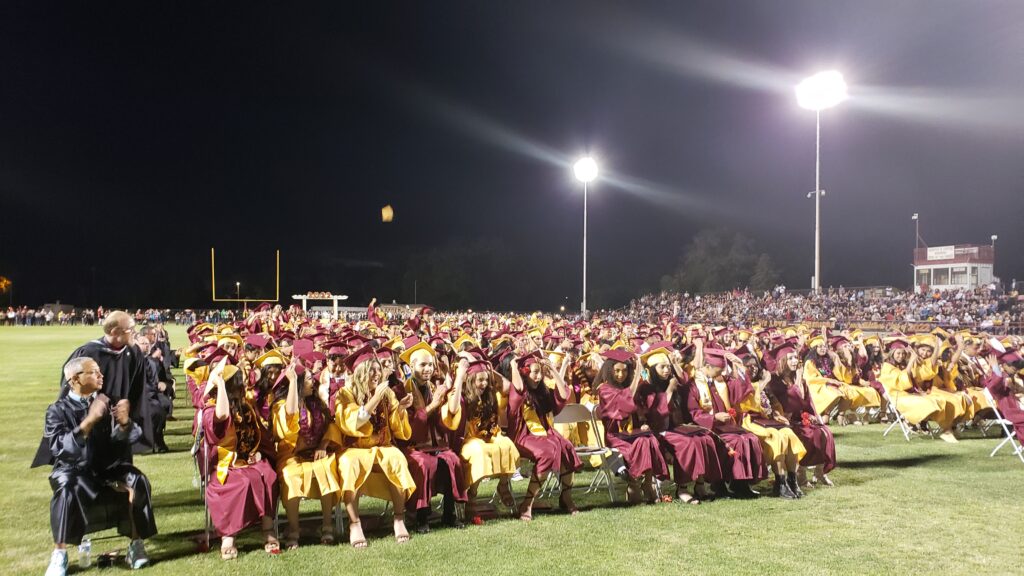 Sanchez was then joined by the Senior Class Officers to lead the turning of the tassels. That was followed by many of the graduates tossing their caps into the air and hugging each other. Their families and friends in the stands cheered, then joined them on the field for photos and more hugs.
See the Los Banos High School Class of 2022 graduation video on YouTube.