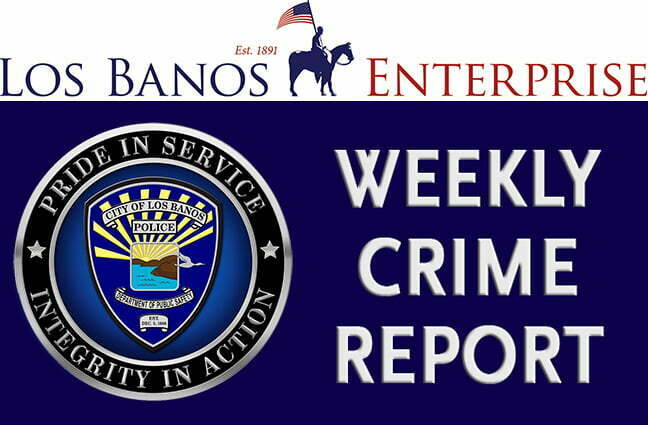 According to the Los Banos Police Department's website three arrests were made, and the following crimes occurred in the city from Sunday through Saturday, June 19-25, 2022. There was one stolen vehicle, 11 assaults, eight thefts, five burglaries (two vehicle, three residential), five calls for vandalism, and 56 calls for disturbing the peace, most for loud music and parties and two for indecent exposure.
An arrest for assault was made following a domestic violence call on Monday, June 20 at 4:20 pm in the 500 block of Merlot Court. (Incident #: 2206200018) LBPD did not provide any name(s).

In addition, on Friday, June 24 at 8:22pm, Filiberto Zamora Martinez, age 28, was arrested in the 1300 block of E. Pacheco Blvd. for a bench warrant/failure to appear on a misdemeanor charge (Case #2204492) and on Saturday, June 25 at 10:35am in the 500 block of Elmwood Drive, Brian Josue Delatorre, age 26, was arrested on an outside felony arrest warrant (Case #2204500).
According to recentlybooked.com Martinez is also charged with possession of drug paraphernalia and a controlled substance, and larceny-petty theft. According to localcrimenews.com, he was also arrested in 2016 by the Merced County Sheriff's Department for 647(F) being intoxicated in public.
According to recentlybooked.com Delatorre is charged with contact with a minor for sexual intent. (Booking #2022-00003331) He was also arrested on June 23 for possession with intent to send and/or sell obscene matter with prior and with a minor. (Booking #2022-00003283)