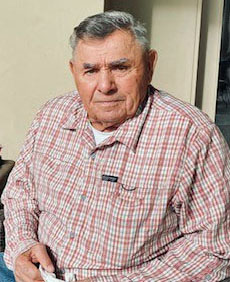 Theodore R. Snyder, 82, passed away on December 22, 2022, in his home surrounded by loved ones.
Theodore, fondly known as Ted or Teddy, was born to Theodore and Lucille Snyder, on December 7, 1940, in Dos Palos, CA. He attended Dos Palos High School. Soon after, he married Sharon Baldridge in 1961, and started working for his father-in-law Raymond Baldridge.
Ted believed in hard work and commitment. Even in his last few days, you could find Ted driving the fields with his dog "Knothead" or feeding his cattle. Ted enjoyed being around friends and family. From early mornings at the local coffee shop to late evenings visiting his buddies, Ted was always available to lend a helping hand.
Ted is survived by his children: Jebra Freeman and husband Wayne of Azusa, CA, Teddi Peters of Madera, CA, Dustin Snyder and wife Hilary of Firebaugh, CA; a brother Ron Snyder and wife Elsa of Dos Palos, CA, and a sister Roseann Snyder of Merced, CA. Ted also had 6 grandchildren, 2 great grandchildren and of course many 4-legged friends.
A memorial service will be held Friday, January 20, 2023, 10:30 am at Dos Palos Cemetery (1800 Elgin Avenue, Dos Palos, CA). The service will be followed by a luncheon at the San Joaquin Winery 21801 Avenue 16, Madera, CA.