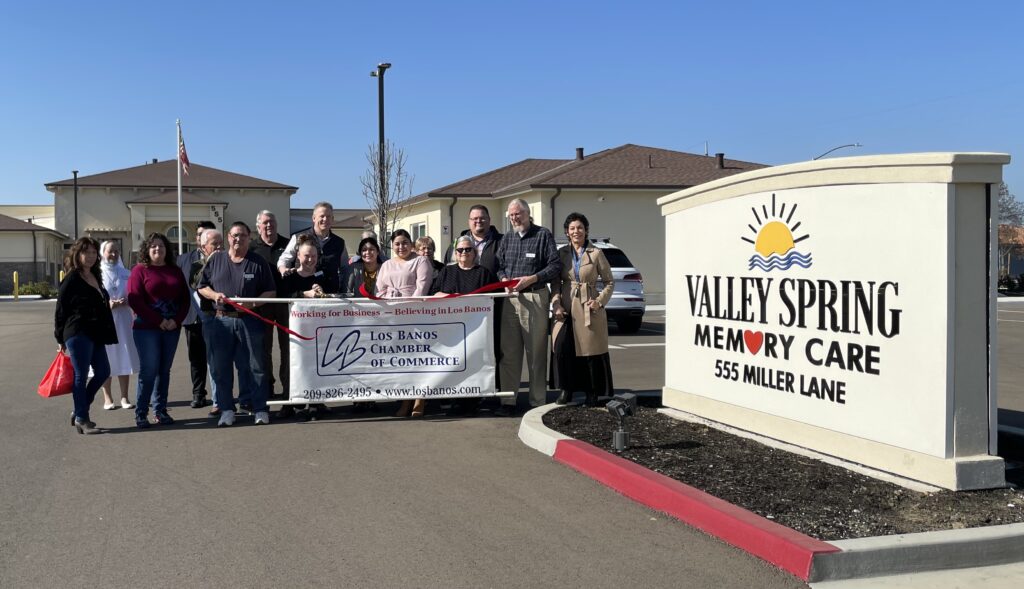 On the lovely afternoon of Thursday, January 26, 2023, the Los Banos Chamber of Commerce held a ribbon cutting for Valley Spring Memory Care (VSMC) located at 555 Miller Lane in Los Banos.
It was an afternoon of community support, heartfelt speeches, networking, delightful hors d'oeuvres and more. Charcuterie cups, peanut butter blonde brownies and beverages prepared by VSMC chef Eddie Pena and cook Elena Aleman were provided for attendees of the ribbon cutting to enjoy. 
Attendees included various Los Banos Chamber of Commerce members, staff from VSMC and Field Representatives for John Duarte and Esmeralda Soria. In a speech from Los Banos Chamber of Commerce Second Vice President Tony Whitehurst, he gratefully thanked the staff of VSMC for being such a great addition to our community. He also presented them with a plaque and a "welcome to town" bag of gifts from various chamber members. "This plaque simply can go someplace visible in your business where people can see it and it will remind them of our pride in having you here.", Whitehurst said. Field Representative Nick Gomes for John Duarte (Congressional District California 13) gave a speech thanking them for being a helpful part of the community, and he also stated that it was an honor for him to be there Field Representative Alejandro Carrillo for Assemblywoman Esmeralda Soria (District 27) presented VSMC with a Certificate of Recognition and said that they provide a "crucial service to the community and memory care and the care that's provided is a very near and dear issue to the assemblywoman." In a speech from VSMC Managing Director Tim Hazen he stated, "We are so excited to be here, we are so thankful to be a part of the community and to have all of you come out today to welcome us. Everyone in the city here has really been tremendous from the very beginning all the way through to the end." 
For more information on joining the Los Banos Chamber of Commerce or information on their upcoming events please visit their website at: www.losbanos.com.